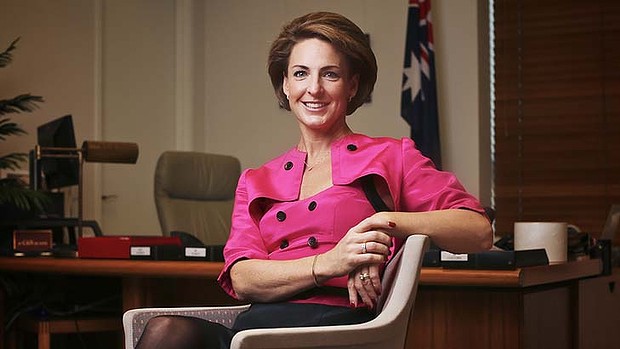 A Sunshine Coast manufacturer has been provided with a $499,000 federal grant for its digital innovation that could give Australians widespread access to life-changing orthotics to improve mobility and reduce pain.
Dan Everson has been a global leader in the podiatry industry, striving to revolutionize traditional shoe inserts and is now taking it one step further with a cloud-based patient assessment.
His Sensokinetic digital platform will enable more health professionals to identify problems earlier and lead to the design and manufacture of individualised Kinetic OrthoticsTM to improve patient mobility and quality of life.
Federal Employment Minister and Acting Minister for Industry, Science and Innovation, Senator the Hon Michaelia Cash today joined the Member for Fairfax, Mr Ted O'Brien MP to announce that Dan Everson's company would receive funding under the Australian Government's Entrepreneurs' Programme.
"Innovation is central to the government's plan to grow the Australian economy and I'm very pleased that Kinetic Orthotics will be assisted to navigate what is often a challenging stage of product development and roll-out," Minister Cash said.
"The Turnbull Government has an unwavering focus on job creation and economic growth which is why we are proud to support initiatives that see companies innovate, grow and employ more Australians."
Mr O'Brien congratulated the local Marcoola-based company for leading the world with its podiatry digital innovation. He said the Sensokinetic platform could be used by a range of health and retail professions outside of podiatry to capture patients' key measurements and movement patterns and determine what orthotics are required.
The world-first program then designs an orthotic specifically for the patient which would be manufactured on the Sunshine Coast. It could be used by physiotherapists and occupational therapists, as well as podiatrists, to improve the lives of more Australians right across the country.
"Orthotics can be used to help with all kinds of problems, from knee pain, to hip and back pain and to prevent our ageing population from suffering terrible falls because of musculoskeletal problems," Mr O'Brien said.
"It's estimated that 75 per cent of people could benefit from an individualized orthotic intervention but with cost and access to expertise key barriers, only five per cent of the population currently seek intervention."
"With this Sensokinetic program, orthotics could be made more affordable and accessible."
Dan Everson is a leader in the field of podiatry, having developed the Kinetic Orthotics method which looks at every aspect of a person's feet and movement to design a unique orthotic.
Mr Everson said it had been in development for more than 20 years and was the only evidence-based method capable of delivering consistently better health outcomes with prescription orthotic therapy.
"With musculoskeletal issues so common across a variety of age groups, our primary goal is to increase the number of people who can benefit from orthotic interventions by making them more accurate, accessible and affordable," said Mr Everson.
"Variability in the effectiveness of orthotic interventions to date has deterred many allied health professionals from prescribing orthotics, so developing a product which provides better outcomes, more often, is a game-changer for the podiatry and broader allied health industries."
The Entrepreneurs' Programme's Accelerating Commercialisation element offers support for entrepreneurs, researchers and businesses on the road to commercialisation.
Dan Everson has two companies – Kinetic Orthotics and Dan Everson Podiatry. Kinetic Orthotics is a manufacturing and research facility that produces orthotics for Dan Everson podiatry and podiatrists across Australia and currently employs 7 people. Dan Everson Podiatry provides employment for 23 people across 7 clinics in South East Queensland and has been delivering health outcomes for more than 30 years.
To find out more, please visit www.movewithoutpain.com.au