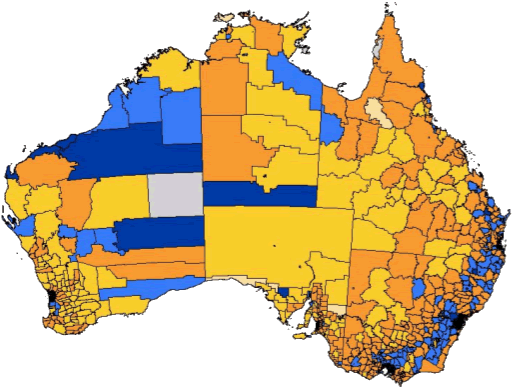 The project examines and identifies the factors contributing to strong and sustainable regional capitals and regions. In particular the aim of the project is to explore the impact that good governance and effective leadership by local government can have on growing regional Australia.
The key research questions that this study addressed are:
What is a strong sustainable regional capital and region?

What are the key drivers or inhibitors to building strong sustainable regional capitals and regions?

What are the key local government leadership and governance ingredients involved in creating and/or enhancing these drivers, and/or eliminating or minimising the effects of inhibitors?
Research Partners
Partners in the research were the Australian Centre of Excellence for Local Government (ACELG) and Regional Capitals Australia (RCA). The research was completed through 2014 and reported in March 2015.
Approach
The research used a combination of case studies and a review and analysis of key literature and other sector resources. The case studies were selected from the five regional capitals and regions: Greater Geelong VIC (Barwon G21); Greater Geraldton WA (Midwest); Launceston TAS (Northern Tasmania); Mackay QLD (Mackay-Isaac-Whitsunday); and Wagga Wagga NSW (Eastern Riverina).
The selected regional capitals met the criteria for being classified as a regional capital (as defined in the report) and offered diversity in terms of location and size:
they are located in five different jurisdictions across Australia situated between 75 and 970 kilometres from their respective capital cities;

they are a mix of coastal and inland locations;

their LGA geographic area cover between about 1,250 square kilometres and nearly 12,500 square kilometres; and

they provide a range of small, medium and large regional capitals with populations ranging from around 40,000 to just over 220,000.
Background
Regional capitals are central to Australia's regional development agenda. While the size of such capitals are as diverse as the cities themselves, they all share a unique role of providing a central point to access for local residents and those in surrounding towns and rural areas to essential infrastructure, services, business, employment and education. This is commonly referred to as the 'hub and spoke' model of regional development.
In the regional development policy space it is often left to local government to coordinate and produce the lion's share of the regional visioning, planning, engagement and budgeting required for development priorities and projects. This is often because local government is the closest governing authority to communities and as such will represent the ambitions and values of their regional areas (p.10, Volume 1).
Despite the requirement for evidence-based policy, the success factors that go into creating strong regional capitals have gone widely unexamined. With ACELG, RCA and its alliance members explored two factors that underpin development - rigorous governance and effective leadership.
Outcomes
While local government operates within constantly shifting policy and funding structures, its role in growing regional capitals and regions is crucial to future regional development. Enhanced local governance and leadership is key to its involvement, particularly in view of a new approach to regional economic development reported by the research . This new paradigm focuses on tapping under-utilised potential in all regions to enhance competitiveness, and working in a cross-sectoral integrated approach. This contrasts with top-down, centralised approaches that emphasise subsidies and compensation for regional 'disadvantage.'
A new approach to regional economic development can recognise the key ingredients for ongoing positive growth of regional capitals and their surrounding regions such as the environment, community capital, entrepreneurship, creativity and innovation, governance and leadership, institutional factors, and economic and market conditions.
The fundamental on-the-ground knowledge and flexibility of local government, the report argues, is essential for adapting to changing economic conditions. Some of the key 'ingredients' for success in building sustainable regional capitals and regions derived from the case studies are summarised in the diagram below.
Source: Morris, R., Gooding, A. and Molloy, L. (2015) Local government growing regional Australia Volume 1, Australian Centre of Excellence for Local Government, University of Technology Sydney, Sydney, p.53.
An important factor in achieving these successes was an innovative approach to local level governance and leadership. The following graphic summarises key elements from the case studies concerning local and regional governance frameworks.
Source: Morris, R., Gooding, A. and Molloy, L. (2015) Local government growing regional Australia Volume 1, Australian Centre of Excellence for Local Government, University of Technology Sydney, Sydney, p.51.
Advocacy and dialogue
The ACELG and RCA seeks to encourage a dialogue across governments about the key issues raised in the report, with particular regard to the current Federal Government inquiry 'Future role and contribution of regional capitals to Australia' due to report in December 2015. The research will also be presented at the next ALGA National General Assembly of Local Government by both RCA and ACELG.
Report is available at www.acelg.org.au