Written by

a guest contributor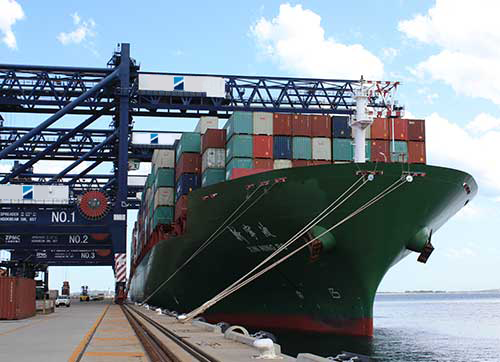 Containerization is the most significant innovation affecting the development of logistics in the second half of the twentieth century. In the 1950s, before the development of containerization, loading took effort, and automatisation was restricted. Before loading was shipped in containers, global trade had been too costly and sluggish .Vessels would often spend months at the dock. Loading and unloading of cargo was a slow and complex procedure. Since completely different products, with entirely different destinations, were shipped together within the hold many items were lost or damaged. All this was modified in the late 1950s with the invention of containerization. Rather than having a brigade of longshoremen, shipping thousands of loose items at the dock, a container was filled with a shipment away from the dock, moved to the port, and lifted into the ship using special cranes. Detrainment was equally simplified. Ships' duration in port was greatly decreased. Loss, pilferage, and damage nearly disappeared. Ship loading became cardinally easier and quicker.
Nowadays, containers with commodities can be moved quickly from storage to the ship or train, and then to the truck. They are the main elements of the interconnected world supply chain, with different levels of production situated in different parts of the world. Thus, production is becoming globalized by a much better utilization of relative advantages, whereas distribution systems could cooperate more efficiently.
In 2006, container shipping celebrated its fiftieth anniversary, as an invention that had a stunning influence on manufacturing and distribution. But even after fifty years, the impact of containers on the international business, manufacturing, and distribution has not been fully recognized by professors and practitioners associated with railway transport, maritime shipping, terminals, and logistics.
According to UNESCAPE, containers shipped on the global trade routes (except transshipment) amounted 63.6 million dollars in 2002, compared with a mere 37.8 million dollars in 1990. In 2015, the amount is predicted to reach 179.4 million dollars. Volumes in the east-west trade zones and north-south trade zones will rise at a median rate of around 7% annually. Inter-regional trades will show a growth of nearly 6.8% annually. Their growth is a result of inter-Asian trade booming; it is also due to use of hub ports as transfer destinations for local markets. The overall output handled by the world's container ports raised from about US $325 million in 2001 to $400 million in 2006. Moreover, it demonstrates an average annual growth rate of 7%. Worldwide container handling has increased further to $715 million in 2012. Transshipment traffic has been the main strength after growth in container transportation within the last century.
In most progressive world regions, containers show quite a high percentage within the marine-related import and export turnover of general loading. Nevertheless, not all seaports have inculcated, or been in a situation to embrace containerization. Early implementation appears to mean no guarantee of further containerization. Such conclusions interlace with the graphical models of Barke (1986), Hayuth (1981), and Notteboom and Rodrigue (2005) on the evolution of seaport container systems. These models counsel that not all ports, which developed the container systems earlier, become main container centers. The resulting seaport concentration can cause degradation of smaller ports within the network. Taking into consideration the 'level of containerisability' (as not all shipment can be transferred in the container), it is forecasted that the global level of containerization could be a maximum of 75%.
Container shipping has changed the dimension and scope of world freight distribution. By enabling a bigger velocity in freight distribution, it has spread out new market shares for import and export. So, larger markets could be expanded within the same, if not shorter, period of time and, sometimes, at lower value. Velocity is rather a function of time than of speed, as containerization principally improved the operation of transshipment. However, it is not that freight handling is shifting more quickly along the corresponding modes of servicing supply chains. Thus, the effectiveness of transportation terminals has dramatically gained the velocity of trans shipments and, consequently, of supply chains.
The conception of transshipment in its broad sense is used to embody activities taking place once transportation is not active. Particularly, warehousing has adapted to accommodate higher velocity of freight in the form of distribution centers. Before the implementation of the container, a typical break-bulk freighter might take days to get unloaded. Now a similar amount of containerized freight can be transshipped within a matter of hours. It may be controversial that the speed of shipment from a modal prospect has been attained over more than 100 years, yet, it is doubtless that container shipment, through the transshipment function, genuinely enabled a multiplying result for velocity. Once a particular velocity is gained, time management of manufacturing becomes difficult, as it moves from a push to a pull distribution strategy, reaping important distributional advantages.
Container shipment has provided the instrument to extend into world markets, while enhancing security, pliability, and costs of transportation distribution. The interconnection of such permitted the location of supply chains, mainly based on the conception of 'just-in-time', which is a fusion of the speed of transportation with producing and distribution strategies.
Nowadays, containerization systems are facing a maturity market phase, where freight transport has become the most valuable and costly component of firms' operations. Now logistics management team has to deal with failures in the transportation infrastructure, with costly oil prices, complex protective issues, and with lack of labor and equipment. Such things added more risk to supply chain management. And the challenges typically get worse before they improve. Therefore, CEOs in logistics firms are spending most their time on freight transport mistakes.
These problems affect the basics of container system, and have induced managers and governments to search for innovative container streams, and closely related logistics infrastructure. Clever administration of the container activity is a supposition for a balanced integration of the container concept in world supply chains.
The main features of container development systems have been stressed in this paper. With regard to liner shipping chains, it is planned that an increase in the network based service is likely to accommodate the best attributes in dealing with international supply distribution lines. The presence of different networks on the similar trade routes provides elasticity in routing functions, and is likely to reduce network problems in times of increased schedule uncertainty.
Consequently, it is difficult to imagine a global economy without the containerized movement of goods that have transformed trade over the past 50 years. The state intermodal freight system (seamlessly integrated into the global supply chain) underlines the nation's economic growth and wealth. The efficiency engendered by intermodal containerization expanded with the deregulation of transportation in the late 1970s and early 1980s. Liberalization of the economy, and intensive competition decreased prices, encouraged transport innovations, and stimulated unprecedented levels of demand.