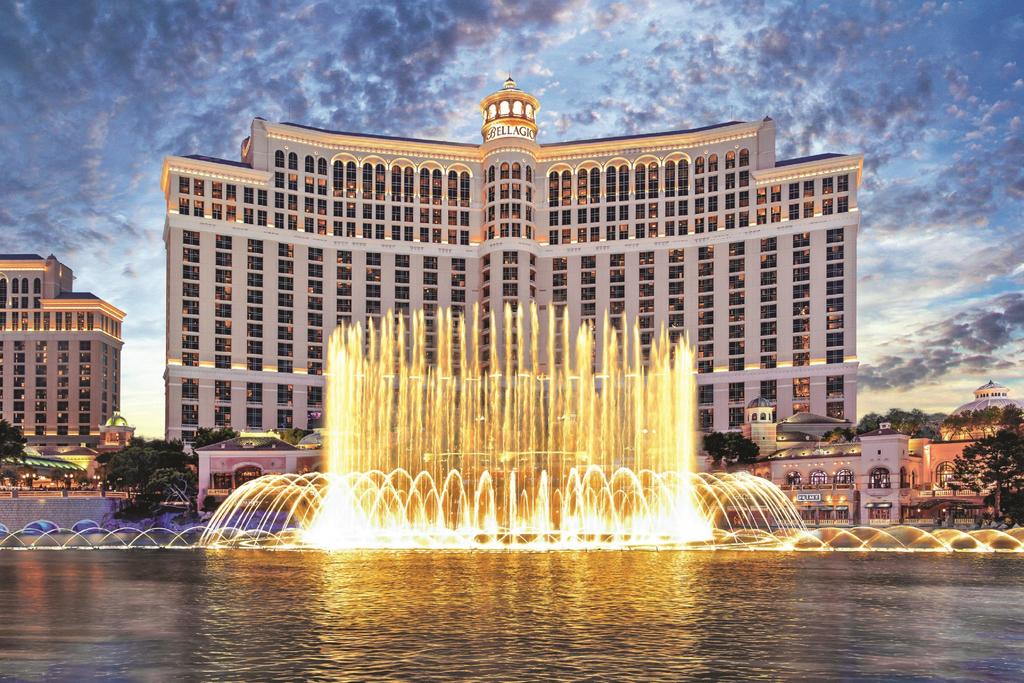 Gambling has never been easier with the evolution of online casinos, live tables and a plethora of trustworthy betting sites. If you're unable to travel to your local casino, hit up Vegas or journey to an extravagant venue far away, the ability to gamble online truly can't be overstated.
But gambling and travel are often synonymous.
People who enjoy fine dining, exploration, beautiful views and of course gambling, enjoy life and seeking out varying entertainment options.
If you fit that description, you may want to consider putting down the laptop and venturing out into the world. Combining travel with gambling can be a thrilling and unforgettable experience, but it helps to do it at the right spots.
Here are the top five casinos across the globe you should consider adding to your list of destinations:
Bellagio
Caesars Palace and other Vegas casinos are about as popular and perhaps just as lavish. But Bellagio has a real argument for the best casino in Las Vegas and it rolls off the tongue as good as any others.
You could argue there are better spots for specific types of gambling, but Bellagio is the top spot for poker table action, features Bobby's Room and reels in some of the biggest celebrities and professional players.
This is a hot spot for regular casino goers, too. Bellagio reigns supreme on the Las Vegas Strip, as one of the most extravagant destinations that gives off a royal feel.
Bellagio takes the cake in Vegas when it comes to high class and it also is the place to be for poker enthusiasts. That's reason enough to give it top rank among Vegas gambling venues.
Borgata Hotel Casino & Spa
If you're looking for a great casino in the states and not headed for Vegas, take a turn and go toward Atlantic City.
It's true that this isn't the gambling destination it once was, but Borgata is a huge reason why people looking to win cash still flock there. The MGM Resorts property has a massive gaming floor in addition to its impressive hotel and resort, as well as elite dining (featuring Bobby Flay and others) available to its guests.
Borgata pulls you in with its variety on the casino floor, though. The Asian market is represented nicely with Pai Gow Poker and various games offered, while the rest of the casino boasts a plethora of slots, table games and poker tables.
In addition to being a great casino and resort, Borgata treats their players well.
Elite customer service powers a casino that offers the total package of ambiance, dining and playing versatility. You don't always go to Atlantic City to play, but when you do you stay at Borgata.
Marina Bay Sands
From the United States to Singapore, we go. Marina Bay Sands stands out as one of the best casinos in the world and you can say that based on the money that went into it alone.
This $5.5 billion dollar property was constructed to impress, offering one of the biggest casino floors in the world with over 500 table games and an absurd 2,500 slot machines strewn across three different levels.
You may come for the gambling, but you stay for the scenic views.
You'll find the best on the 57th floor, where the world's highest recorded infinity pool resides. Not only is this an extremely exclusive perk to staying at the Marina Bay Sands, but it offers a beautiful view over the city.
Included in this amazing venue is the Marina Bay Science museum, a grand theater, an indoor ice skating rink and elite eateries like Wolfgang Puck's Cut! and more.
The Venetian Macao
One of the largest casinos in the world most certainly qualifies as one that die hard gamblers and travelers alike should want to visit.
The Venetian Macao in Macau, China earns that distinction, as it runs 546,000 feet and is worth over $2 billion dollars. Also one of the biggest buildings in the world in general, The Venetian Macao features a vibrant nightlife with 24 eateries, four pools and gondola rides through San Luca canal inside hotel itself.
No, really.
As for the gamblers, you'll be appeased with over 3,000 slot machines and 870 gaming tables. You're in China, but you'll feel like you're in Venice.
A trip to Italy is probably ideal to soak up high level European culture, but a jaunt to The Cenetian Macao is about as good and checks all the boxes for gamblers.
The Casino de Monte-Carlo
One of the most popular and well traveled casinos in the world has to be The Monte Carlo Casino, which is famously attached to blockbuster movie character, James Bond.
The Casino de Monte-Carlo is based in Monte Carlo, Monaco is a hot spot for travelers dipping their toe in Europe, classes things up with a regal approach.
The James Bond connection isn't for nothing, as gamblers will feel like they're on a movie set as they tour this lush casino littered with a variety of table games.
Gamble like a british secret agent in a beautiful venue made available strictly to tourists. Just make sure your drinks are shaken, not stirred.
Sun City Casino Resort
One more casino you need to make the trip for is Sun City Casino Resort, which drops in nicely in the middle of the bush in South Africa.
Around since 1979, this lavish casino and resort is a top attraction for all types of gamblers and grades out as one of the best casinos in the world.
You won't want for gambling opportunities here, as Sun City features 850 slots and 40 gaming tables in the midst of a litany of high-end leisure activities.
Where else can you go on safari, hit the green at a Gary Player golf course, run through a massive maze, hit the water park and then try to win big at one of the most expansive casinos in the world? Nowhere.
Ranking these casinos isn't really necessary and there is an argument this list could be altered drastically.
What isn't really up for debate, however, is the notion that these are some of the best casinos in the world and that they're all worth checking out.
This list covers the globe for the most part, too.
Two of the best casinos in the U.S. grace this list, while you can consider stops in China, Europe and South Africa. There's more to peruse with so many gambling locations out there, but starting with this list would be far from a mistake.