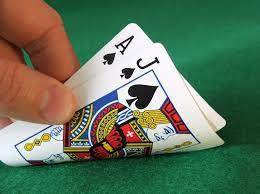 The rules of Blackjack can be complicated and deciding a strategy can be difficult if you are a new player. That is why we have compiled this blueprint which should help players to improve their game! Check out King Casino guides for more chances to win!
Understanding the Basics 
Before you start playing it is important that you understand the rules in their most basic form. Blackjack is played with a standard 52 card deck and the main aim of the game is to be dealt the highest value up to 21.
You are competing with other players as well as the dealer. If the dealer gets the highest amount or Blackjack you will automatically lose, it doesn't matter if you beat the other players. 
Key Vocabulary to Learn 
Suit 
All cards come in suits of either diamonds, hearts, spades and clubs. Diamonds and hearts will be red while spades and clubs will be black. 
Rank 
This is the value on the card, it could be a number or even an ace. 
Face Card 
This is a card which has either a king, queen or jack on it.
Blackjack 
This is when the two cards dealt equate to the number 21! Usually requires an ace combined with a face card. Extremely rare! 
Hit 
After the cards are dealt, players can request another through this say. 
Stand 
If players would instead rather stick with the cards they currently have, this is known as standing. 
Doubling Down 
This is after the cards have first been dealt, players place an additional bet and receive another card. 
Splitting 
When players have two cards of the same rank, they are given the option to split. This means they are given the chance to have an additional hand, as long as you can pay for a small side bet that is! 
Hard Hand 
This is a hand which is incredibly close to surpassing the number limit of 21, it cannot use an ace to lower the amount because it is so close. If you have a hard hand it can be very dangerous to request a hit. 
Soft Hand 
This hand is where players could request an ace at the value of either 1 or 11 and they would still be under the limit. For example if your total is an 8 and you receive an ace this would either take you to 9 where you can request to hit again or could take you to 19 which brings you closer to the elusive 21. 
Strategies 
If you are a beginner, it is important that you stick with basic strategies until you feel comfortable learning more complex ones. Basic strategies are still effective despite their name. Remember to always check the dealer's up card to see if it is good or bad and then proceed accordingly. Also remember to start your betting small and slowly increase it over time, this is a patient method but it will pay off eventually. 
Conclusion 
There is no shame in looking for a blueprint and guide to the rules of Blackjack. It is a complicated game, especially if you have never played it before. Learning the basics and understanding some helpful tips and tricks will help to improve your game.