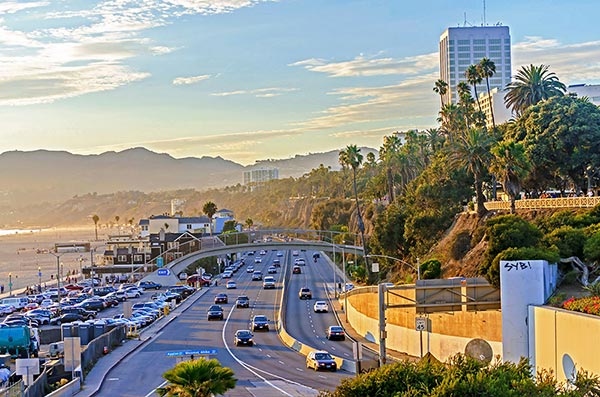 The Golden State is arguably the most liberal state in the union, yet those views do not extend to online gambling activity. The state of online gambling in California is best described as opaque, since there is little clarity about many of these issues. Land-based card rooms are legal in California, making games like poker, blackjack, baccarat and others accessible to all legal age players. In total, there are some 160+ fully licensed cardrooms across the state, many of which operate from Native American areas. California is also home to horse racing, at Santa Anita, Los Alamitos, Cal Expo, and Del Mar, among others. The sheer number of gambling options in California truly boggles the mind, with impressive Native American casinos and horse race betting options available.
When it comes to online gambling, California lawmakers have not been quite as forthcoming. The first tribal casinos were established in California in 2001. This was followed by the legalization of poker fundraising nights in 2007. Fast-forward to 2010, California lawmakers regulated online horse racing betting outlets. By 2012 the push for online poker legislation gained momentum, and a bill was introduced in the California Senate. It didn't pass. By 2018, a renewed push to get legal online sports betting passed was introduced. As it stands, land-based casino gambling is subject to strict regulations in the Golden State. The most popular way for players to gamble is through cardrooms a.k.a. card clubs. Tribal casinos run the industry, with a wide range of games available to players including charitable bingo, slots, blackjack and poker variants. According to California statutes, 'Razzle Dazzle', dice games, and card games are prohibited if players participate with intent to win real money. Poker games are also banned in counties comprising 4M+ people. Additionally, it is illegal to possess dice with more than 6 faces.
It is worth pointing out that many Native American casinos have attempted to push legislation favoring online gambling, to no avail. Land-based poker games are readily available to players, but online poker remains off-limits. With the exception of horse racing, other forms of online sports betting have yet to be legalized, despite the Scotus decision to overturn the ban on sports betting across the US. Now, lawmakers at state level are seeking to introduce legislation for legalized sports betting online. Daily Fantasy Sports (DFS) straddles the line between legal and illegal. Players have not been deterred by this and routinely engage in DFS betting as they consider it to be a skill-based game, and not a gambling game.
Why is Online Gambling Legislation Not Being Passed in California?
Online gambling is not expressly prohibited in California. There are no efforts to regulate online gambling activity in the state either. This grey area indicates that players cannot be prosecuted for participating in online gambling activity, however the minimum gambling age requirements must be met. In California, the legal age for gambling is 18 for playing lottery games, and 21 for online casino games, poker games, sports betting, and bingo. The law expressly forbids anyone to operate an online gambling business in California. Provided you are a player, not an online casino business owner, online gambling should not present any problems to you.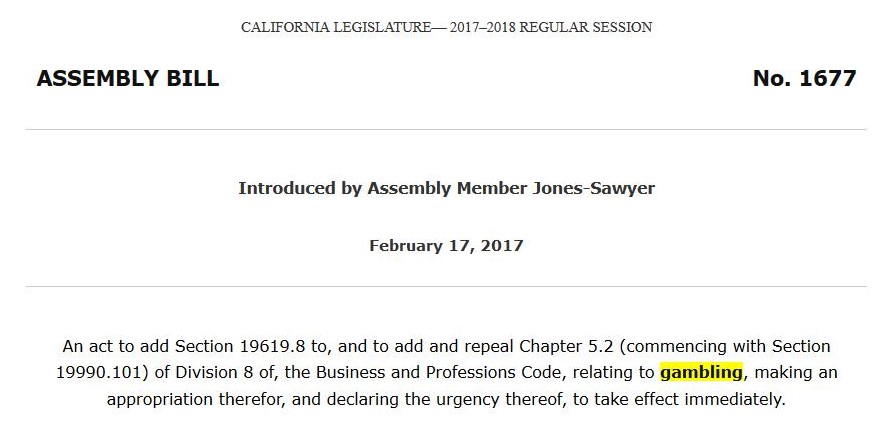 Source: LegalInfo.Legislature.ca.gov
If you derive any winnings from online gambling activity, these must be declared to the IRS for state and federal taxes. Anyone who under reports or fails to report their casino winnings and gambling winnings may be subject to prosecution. California residents are encouraged to carefully assess each online casino, online poker room, and online bingo parlor on its merits. This includes checking licensing and regulation, player reviews on third-party websites, and the credibility and responsiveness of the online casino question. At the time of writing, online gambling activity was prohibited in California. However, lottery betting, charitable gaming (bingo), and land-based casinos (off-site betting, racetracks, poker clubs, and tribal casinos) are fully legal in the Golden State.
Gambling across the United States
Individual US states define multiple types of gambling activities, including casino gambling, horse racing wagering, pari-mutuel wagering, dog racing, sports betting etc. US states typically regulate regional events betting, with Alaska listing 10 unique events that allow real money wagering, including Ice Classic, Snow Machine Classic, and Deep-Freeze Classic. In Florida, betting on regional events includes the following games: Mahjong, Dominos, Penny-ante games (no greater than $10), Poker, Bridge and Pinochle. There is tremendous controversy about gambling and online gambling legislation across the US, with Massachusetts having a strange prohibition in the form of no gaming activity permitted within 1 mile of a military muster or cattle show.
Overall though, Native Americans have the right to establish casinos on their lands, irrespective of the states they're living in. This has also helped to facilitate increasing liberalization of gambling legislation across the United States. Various referendums and legal initiatives have been introduced to spark public debate on this issue. From a revenue perspective, gambling generates substantial taxes for state coffers, with as much as 25% of winnings over $5000 being withheld for the IRS. For example, anyone winning the Powerball lottery of $100 million + would pay $25 million + to the IRS. Much the same occurs at state-level, while withholding taxes they fluctuate between 0% and 12% depending on where a person lives.
States Where It Is Currently Legal to Gamble Online
The US online gambling landscape is always changing. Bills are continually being introduced at state-level to facilitate online sports betting, online poker, online casino, and other gambling games. Currently, the states which offer legal online gambling activity include the following:
Nevada – online poker but no online casino games. Slot machine players get to enjoy social gaming platforms with no real-money play available. It is possible to enjoy sports betting but not online. Nevada allows pari-mutuel betting too.
Pennsylvania – online sports betting was ushered into law on 28 May with online casinos following in July 2019. According to the Pennsylvania Gaming Control Board, sports betting revenue is taxed at 34% of GGR, with a 0.25% on handle for federal excise tax, and 2% for local revenue share.
New Jersey – online gambling is alive and well in New Jersey. The full array of sports betting, online bingo, online poker, and online casino games is available. One of the most established online casino operators in New Jersey is 888casino, which features card games, table games, slot games, and live dealer games. All operators in NJ must be licensed and regulated by the Division of Gaming Enforcement (DGE) to offer real-money gambling games to legal-age players. New Jersey is currently the biggest online gambling market in the United States, although other states like Pennsylvania and Nevada are quickly catching up.
West Virginia – WV wasted no time approving regulated online sports betting when the US Supreme Court overturned the federal ban on it. The first sports book opened in August in West Virginia, just in time for the NFL season. Currently, mobile sports betting and traditional online sports betting are available. The industry is fully regulated by the West Virginia Lottery, with several operators in the market. At the time of writing, several West Virginia casinos operate sports books, including Mardi Gras, Mountaineer, Wheeling Island, Hollywood, and Greenbrier. West Virginia regulation limits each operator to just 3 branded online platforms and each skin is required to display the fully licensed logo on its platform.
In summary, the following states offer some or other form of legal online gambling: legal online casino is permitted in New Jersey, Pennsylvania, and Delaware. Legal online poker is allowed in New Jersey, Pennsylvania, Nevada, and Delaware. Legal online sports books are currently allowed in West Virginia, Pennsylvania, New Jersey, and Rhode Island. The online gambling landscape is in a state of flux, with lawmakers across the nation introducing measures to facilitate online gambling.
Oftentimes, intense debates are held between Native American tribal casinos and lawmakers, with consensus hard to come by. Several major events will help to expedite legal online gambling in the US, notably the recent Scotus decision to overturn the federal ban on professional online sports betting at state-level. New Jersey was instrumental in this regard, and many other states are crafting legislation to cash in with online sports betting.