Written by

Carolyn McKay, Senior Lecturer – Criminal Law, Procedure, Digital Criminology, University of Sydney
Green is a colour that evokes nature, fecundity, sustainability.
At the traffic lights it signals go; on a boat, starboard.
It's a soft celadon glaze; an intense Van Eyck wedding dress; frothy, aromatic matcha tea; aurora borealis; a meditative praying mantis. It's jungle camouflage, Joyce's snotgreen sea, green mould and Martians.
If green had a smell, would it be freshly cut grass – or bile-infused Exorcist vomit?
Green, like all colours, has innumerable meanings and cultural associations. My interest in green stems from the books I curated in Lurid: Crime Paperbacks and Pulp Fiction.
My favourite books in Lurid are the green Penguin crime series from the 1960s. Penguin was founded by Allen Lane in 1935 and revolutionised publishing through a focus on well-designed, pocket-sized and affordable high-quality literature, as distinct from mere pulp.
Read more: Friday essay: the complex, contradictory pleasures of pulp fiction
The covers were standardised yet stylish and instantly recognisable: two horizontal bands of colour separated by a central white band featuring the author's name and title in Gill Sans font. Initially designed by Edward Young, the aesthetic was strengthened in 1947 by German typographer Jan Tschichold's Penguin Composition Rules.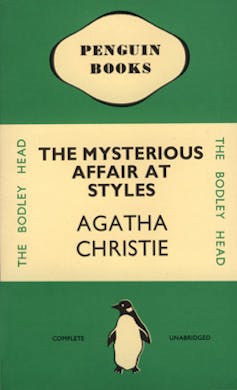 Authors: Carolyn McKay, Senior Lecturer – Criminal Law, Procedure, Digital Criminology, University of Sydney
Read more https://theconversation.com/freshly-cut-grass-or-bile-infused-exorcist-vomit-how-crime-books-embraced-lurid-green-132763