Written by

Mike Dickison, Research Information Advisor, Massey University
When Wellington mural artist Xoë Hall discovered her work on a calendar, she hadn't been contacted by anybody, let alone credited or paid for it.
This wasn't the first time. Her art often appears on T-shirts and postcards without permission. This is because Hall is a street artist — and most people think street art is in the public domain, to be freely photographed, shared and republished. They're wrong.
Street artists make a difference to the character of our cities and often use their art to raise social issues. But with a few high-profile exceptions, most don't make much money.
Seeing street artists' work ripped off, particularly by agencies with big photography budgets, is common. But there are things artists can do to protect their work from unauthorised use.
Read more: Street art: Personal creations get political with public messaging
Street art and copyright
Under New Zealand law, all original artworks are copyrighted automatically from the moment they're created. Artists don't need to register them or put a copyright symbol on them.
This gives two sorts of legal protection: legal rights and moral rights.
Moral rights mean the artist is identified as the author, and the work cannot be used in a derogatory way which could harm their reputation. Legal rights describe the exclusive right to make a copy of, communicate, or adapt the artwork.
To photograph and share an original artwork legally, you need to get the permission of the copyright owner and credit the artist. A common misconception is that copyright law only kicks in if you're making money from using an artwork – but copying is copying.
Read more: Melbourne's love-hate relationship with being Australia's 'street art capital'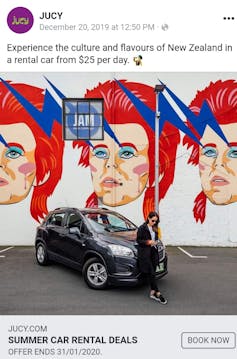 Authors: Mike Dickison, Research Information Advisor, Massey University
Read more https://theconversation.com/yes-street-art-is-on-public-display-but-that-doesnt-mean-we-should-share-it-without-credit-132000