Written by

Kate Griffiths, Fellow, Grattan Institute
Political parties in Australia collectively received $168 million in donations for the financial year 2019-20. Today, Australians finally get to see where some of the money came from with the release of data from the Australian Electoral Commission.
While the big donors will make the headlines, they are only the tip of the iceberg. More than half of the funding for political parties remains hidden from public view. And that is exactly how the major parties want it.
What does the data tell us?
The Coalition and Labor received more in donations than all other parties combined. The Coalition received 41% of all funds (or A$69 million), while Labor received 33% ($55 million). The Greens came a distant third at 11% ($19 million), bumping Clive Palmer's United Australia Party out of the position it held during the 2019 election.
The largest 5% of donors accounted for half of declared donations. For the second year in a row, the largest individual declared donation was made by Palmer's company Mineralogy, which gave $5.9 million to his own party.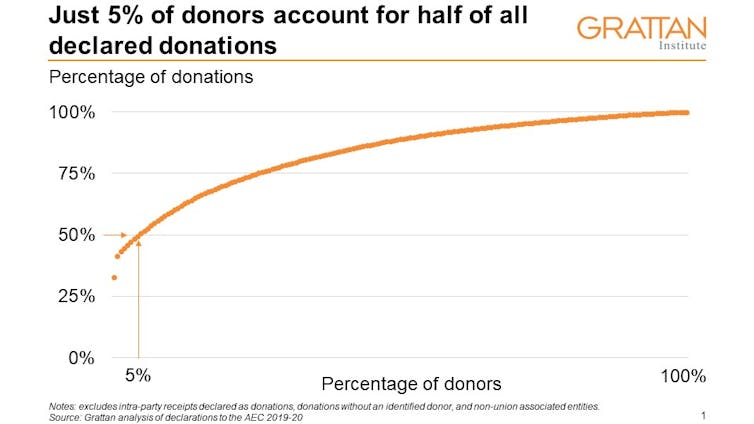 Authors: Kate Griffiths, Fellow, Grattan Institute
Read more https://theconversation.com/more-than-half-of-funding-for-the-major-parties-remains-secret-and-this-is-how-they-want-it-154364