Written by

Kelly-Ann Allen, Senior Lecturer, School of Education, Monash University
A recently released policy guide book for teachers and schools has been receiving some criticism. For instance, an article in the Daily Telegraph claimed:
Teachers are being told not to use phrases like "girls and boys", "normal" and "other" in class – but they should make students aware of "superdiversity" and "declare a climate change emergency" as a way of "telling the truth" about our "climate breakdown".
The article is talking about Building Better Schools with Evidence-based Policy: Adaptable Policy for Teachers and School Leaders, which I edited along with Andrea Reupert, and Lindsay Oades.
Although the article claims the book offers "instructions" designed by "academic boffins", this is not entirely correct.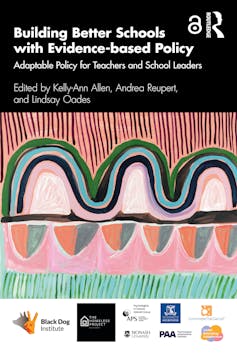 Authors: Kelly-Ann Allen, Senior Lecturer, School of Education, Monash University
Read more https://theconversation.com/free-schools-guide-about-inclusiveness-and-climate-science-is-not-ideological-its-based-on-evidence-162423