Written by

Evan Smith, Research Fellow in History, Flinders University
Often when historians visit an archive or conduct research, we are not sure what we'll find. With the help of archivists and librarians, we may know broadly what is contained in an archival record or a database, but we never know what may or may not be useful to us. Approaching our research material with a particular set of questions or analytical framework, what we actually find may leave us surprised, confused or taken aback in another way.
On Twitter, I asked a simple question: Historians, what is the thing that made you go 'wait, wut?' in the archives or in your research? The response was overwhelming – over 300 replies and 450 quote tweets at last count.
Historians, archivists and other researchers got in touch with great stories of their archival finds and tales of bizarre research moments. These ranged from the quirky to the disturbing to the profound.
Below I have chosen a handful that fall into each category to give an idea of the wide spectrum of what historians have come across in the field.
The quirky
Many of those who responded told stories of bizarre (and sometimes amusing) finds in the archives. Some were actual objects, such as Robert Cribb finding "17 tubes of processed opium, ready for smoking, in the Dutch archives from 1946 Indonesia", Daniel McKay coming across "negatives of an early Australian prime minister naked on holiday", and "300 love letters from woman to woman around 1760, partly written in blood", located by Susanne Wosnitzka.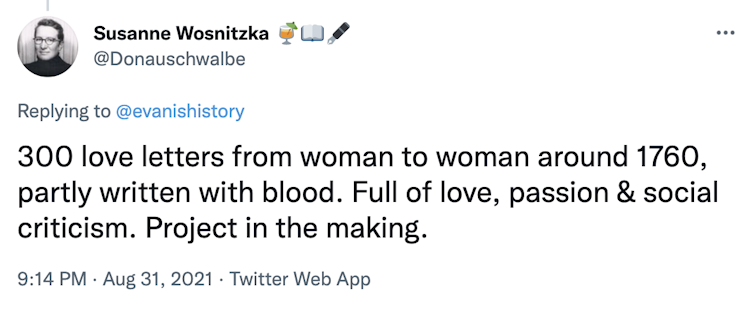 Authors: Evan Smith, Research Fellow in History, Flinders University
Read more https://theconversation.com/i-asked-historians-what-find-made-them-go-wait-wut-heres-a-taste-of-the-hundreds-of-replies-167176