Pokies have become much more popular over the years, with many popping up in online casinos and all over the gaming floor in land-based gambling facilities. While pokies can be equally as fun in both of these locations, there some differences in the way these games are played.
In this article, we're going to take a look at the differences between pokies online and pokies in a land-based casino. Keep reading if you'd like to find out more about this.


Graphics
The first thing that you need to think about when comparing these two types of pokies is the graphics that come along with the games. Most of the pokies that you'll find in a land-based casino will have standard graphics that aren't very complicated in design. This can work well for the type of casinos that they are in, but this traditional type of pokies is not quite up to the standards that online pokies have.
The games that you'll find in an online casino come with some really impressive graphics that developers have clearly spent a lot of time creating. They'll think through complicated themes, partner up with well-known brands and create some graphics that can help to make these online pokies far more impressive.
When it comes down to it, it is clear that online pokies win in terms of the graphics and the quality of the game.


Bonus Features
When comparing pokies online with pokies in a land-based casino, you also need to look at the bonus features on offer. In many land-based games, you'll find that the bonus features aren't very complicated with the occasional multiplier appearing as you spin. You will usually be able to hold or nudge the reels, which is not something that you usually find on online pokies.
The bonus features in online pokies are very complicated and comes with everything from mini-games to free spins rounds. This means that you could really win a lot more cash if you can trigger one of these features, and it makes a huge difference to your final prize. Developers pride themselves on the bonus features that they put into their online pokies, and this is very different from the features that you'll find in a land-based casino.
It is clear that the bonus features in online pokies are much more impressive than those that you might find in land-based casino pokies.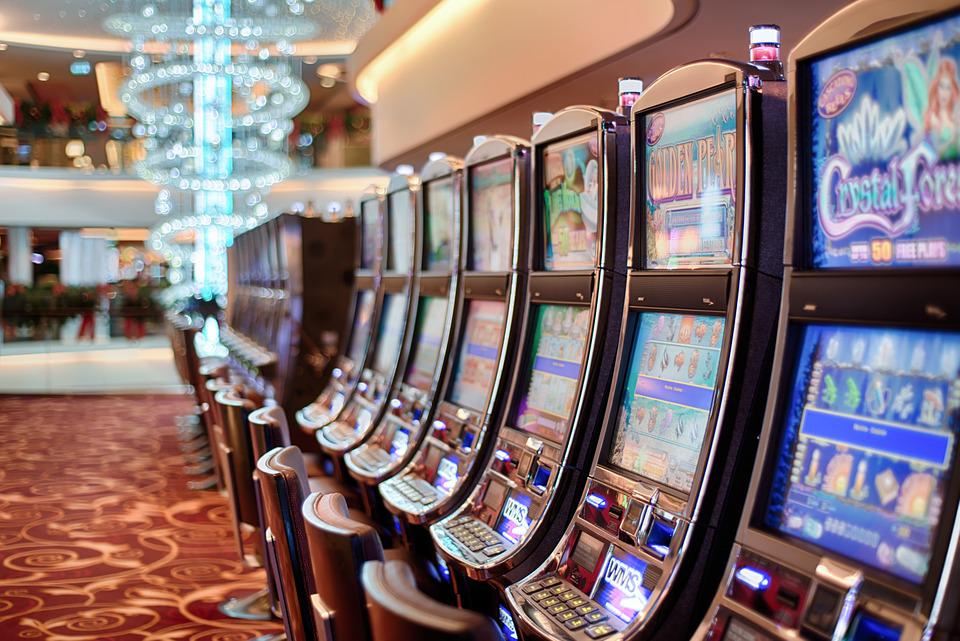 Jackpots
Gamblers love to win big jackpots, and when it comes to pokies, there are often a lot of dollars up for grabs. In land-based casinos, you'll find that the jackpots can be quite high and when a player manages to win one of them - the whole room is filled with excitement. However, the jackpots available in online pokies are often much higher than you'll find in a land-based casino.
The reason for the larger jackpots in online casinos is that there are simply many more people playing these games. Casinos are able to hand out big jackpots because they constantly have people placing big bets on their pokies online. Although you might not be more likely to win big just because you are playing online, you might have a better chance of winning a very large jackpot.
This is another case where the online pokies seem to have the advantage.


Atmosphere
While online pokies come with impressive graphics and bonus features, you also need to think about the atmosphere. At an online casino, you are usually playing by yourself and so if you have a big win, there is no one else there to share the excitement with you. On top of this, you'll usually be sitting staring at a computer screen or your mobile device, so there is usually very little atmosphere.
This is where pokies in a land-based casino can have the advantage, as casinos are known for having a very exciting atmosphere. You can sit beside your friends and take a spin on the pokies and when one of you happens to win – everyone will be excited. On top of this, casinos tend to have a buzz about them, and they are usually quite fancy in design.
For this reason, we would conclude that land-based pokies have the advantage in terms of atmosphere.


Selection
The final thing that we are going to compare between pokies online and pokies in a land-based casino is the selection on offer. At a land-based casino, you'll usually find that there is a room or an area on the casino floor that is dedicated to pokies. While these casinos often have a good selection of the latest pokies – with some even having video pokies, people can enjoy themselves.
However, when it comes to online pokies, the selection is huge and there is a themed game for everyone. Players can not only choose from many different online casinos to play their games on, but they can also choose from hundreds if not thousands of games. Casinos will categorise their pokies to allow you to choose a theme that you enjoy, a developer that you like, or even the hottest games right now. They offer the best games and there are so many of these to choose from.
In this case, online pokies tend to win over land-based casinos.


Final Verdict
Pokies in land-based casinos and pokies online are very different in the way in which they are designed, and the selection that is available. It is clear from what we have discussed, that online pokies are much better in terms of selection and bonus features than the pokies that you'll find in a land-based casino.
Although land-based casinos have the advantage in terms of the atmosphere that they create for those who are on a day out, online pokies are far more convenient and tend to have higher jackpots. Make sure to try out online pokies and see the huge selection for yourself. You'll love the graphics and the bonus features that come along with these games.