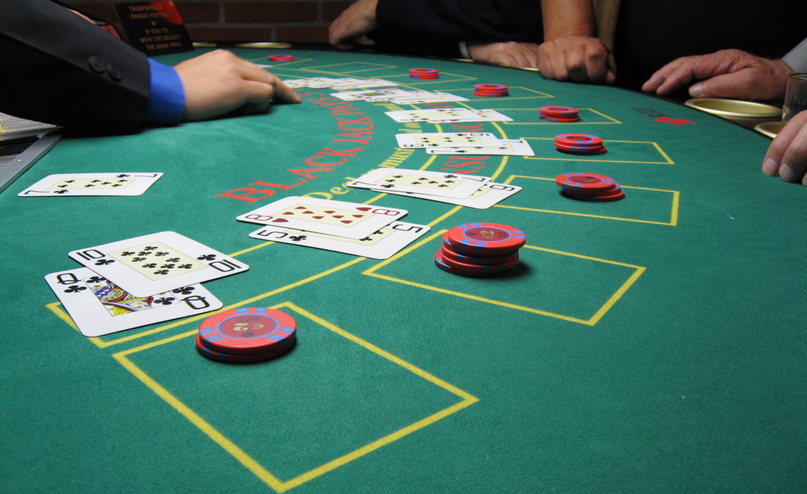 Of course, as one of the most popular games at any online casino, blackjack has evolved in to different types and there are many options that can catch a player's attention. Live blackjack is just one of the most preferred among the many versions available. With it's close to real life experience there is no wonder that a lot of the people think it's better than the simple online versions offered by online casino sites. But how can you start playing this engaging game if you haven't tried it so far? Here are a few tips to help you:


Tip 1
Learn basic game strategy. This is the most important thing for beginner players, so you need to do it right at the beginning.
Tip 2
Do not play live blackjack at tables where the winnings are 6: 5. Only play where the prize is paid out at a ratio of 3: 2. In the long run, it makes a huge difference.
Tip 3
Having fewer decks among the cards used at the table is always the better option for the player. If we can choose between tables where the rules are the same, and the difference is only in the number of decks used, it is better to choose the one with fewer decks.
Tip 4
Look for the tables where the Blackjack rules are most favorable to the player. If you choose a table that is played with 6 or 8 decks, make sure it has a surrender option.
Tip 5
Never use the Martingale system. This system would double the value of the last bet if the previous bet were a loser. This way, if we manage to win this time, we make up for the losses and get a standard win. However, in the event of a large number of failures in a row, the stakes are very high and we can lose everything.
Tip 6
Playing the best blackjack games at low stakes does not mean that you have a better chance of winning. As a percentage, this will be the same as for higher stakes on a table with the same rules. The only thing that affects the house edge is the table rules and possibly whether or not we follow the basic strategy.
Tip 7
Never use insurance. Regardless of how much you have bet and what cards you have, insurance will always be the wrong choice. Only advanced players who can count cards are worth using this option. In the case of a classic game like blackjack evolution gaming, it is better to forget about insurance without counting cards because it simply does not pay off.
Tip 8
The dealer with a 5 or 6 hand is more likely to hit than the value of 21. Do not double your stake when you have a 7 or lower just because the dealer showed 5 or 6. In most cases, the dealer will not exceed the value in this situation—21, which is why such playing will not pay off.
Tip 9
Never stay on a so-called "Soft 17", which is a hand that gives a value of 17 but also includes an ace. It is impossible to exceed 21 by drawing a card in such a situation. Therefore, it is better to play with this hand than abstain to either draw a card or double your bet.
Tip 10
The live blackjack dealer does not influence your win. Therefore, even when you are not doing very well, there is no reason to get angry with the dealer. Paradoxically, the dealers want the players to win. The atmosphere at the table is much better then, and there is also the possibility of receiving more tips from players.
Tip 11
Never play live blackjack on your emotions or gut. Follow the initially chosen strategy and play consistently according to the established rules. By giving up the basic strategy, we only increase the house edge. Thus, the chance of winning is reduced, so it is not worth being guided by emotions, just because we have failed several times.
Tip 12
Play live blackjack online correctly, no matter what the stake is. The fact that you have bet much more than usual does not mean that you should bet against your strategy. The only correct action will be the one that agrees with the tactic, whether you are playing too low or high stakes. It is worth remembering when emotions take over.
Tip 13
If you are playing blackjack for bonuses, choose full tables to play. The game will play much slower there, and you will not lose as much money, and the playing time needed to receive a given prize or bonus will continue to count, so it is better to choose full tables than those with few players.
Tip 14
Don't abuse the surrender option. Only use it when you have 16 cards and the dealer shows 9.10 or an ace, or when you have 15 and the dealer shows 10. If you are counting, you can use this option more often when you are sure it is the right thing to play in a given situation.
Tip 15
Never double your stake with two fours in your hand. In this case, it is better just to draw cards, unless the dealer has a 5 or 6, in which case it is worth using the split option. For some reason, players very often want to double down when they have two fours - try not to do that.
Tip 16
Just because you win a lot at a live blackjack table does not mean that it will continue to do so. There is no way to predict how the next hands will turn out. The rules are always the same, don't be fooled - you have exactly the same percentage chances for each hand, no matter what table you are playing on.
Tip 17
Never play live blackjack online for it all, always leave yourself some money ready if you want to double your stake or use the split option. There is nothing worse than a deal that favors such plays and a sudden lack of cash. It is then a very big loss and a negative situation, try to avoid it.

Conclusion

It's never too late to start being interested in card games and casino games in general. Even though, most casinos work for profit, there are a few free options where you can practice your blackjack skills and it's not necessary to gamble your money for you to enjoy a game or two.