Written by

Stephen Duckett, Director, Health Program, Grattan Institute
Out-of-pocket costs is a hot-button issue. It is on the agenda for a health ministers' meeting this week, where the Victorian health minister will push the Commonwealth for more transparency about doctors' fees.
The Medical Board of Australia is also finalising consultations on its draft Code of Conduct for doctors this week, which also emphasises that fees should be transparent.
Of course fees should be transparent, but that's not good enough. Doctors, and especially specialists, should also be required to set fees that are "fair and reasonable".
Read more: Specialists are free to set their fees, but there are ways to ensure patients don't get ripped off
From January to March, only 30.8% of visits to specialists were bulk-billed, and the average out-of-pocket costs for those not bulk-billed was A$87.62 for each visit.
The visit to the specialist may lead to further costs such as diagnostic imaging (such as X-rays, ultrasounds and MRI scans), where 78.2% of services are bulk-billed and the average out-of-pocket is A$104.56. The alternative to these high charges is referral to a public hospital outpatient clinic, but the wait between a referral and an appointment can be very long indeed.
The Australian Bureau of Statistics estimated that in 2016-17 about 815,000 people missed out on seeing a specialist because of cost. That amounts to one out of every 14 people who needed to see a specialist.
Unlike other aspects of health disadvantage, people in metropolitan areas report higher rates of skipping specialist consultation: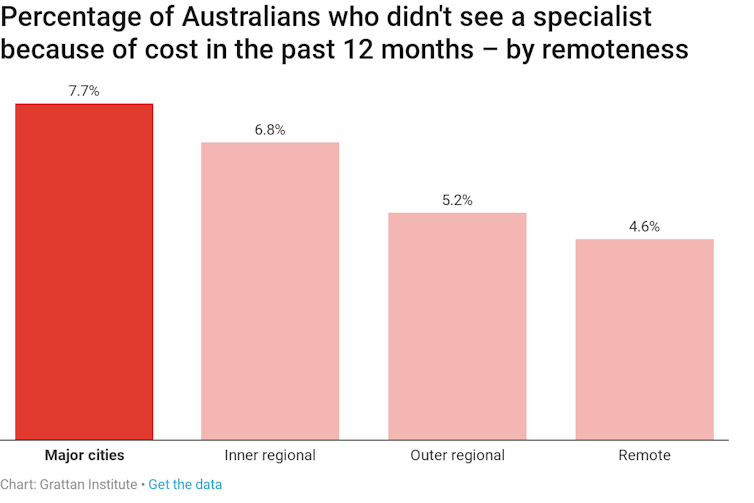 Authors: Stephen Duckett, Director, Health Program, Grattan Institute
Read more http://theconversation.com/doctors-fees-shouldnt-just-be-transparent-they-should-be-fair-and-reasonable-100948