Written by

Justin Yerbury, Research Fellow in molecular genetics of Motor Neurone Disease, University of Wollongong
Many people living with the cruel and often rapidly progressing motor neurone disease (MND) are going underfunded during what is likely the most stressful time of their life.
An independent evaluation of the National Disability Insurance Scheme (NDIS) by researchers at Flinders University found the scheme is failing to take into account the progressive nature and short life expectancy of participants with degenerative diseases.
I'm a molecular biologist and study of the origins of motor neurone disease. I have also had the disease for a little over two years.
Read more: What we know, don't know and suspect about what causes motor neuron disease
Many researchers around the globe are frantically searching for a cure, myself included. But the slow grind of lab-based medical research and the seemingly impossible task of translating this work to positive clinical trials is in stark contrast to the relentless and rapid progression of the disease.
Remind me again, what is MND?
MND is the name given to a group of neurological disorders in which the nerve cells that control the movement of voluntary muscles, known as motor neurons, selectively die.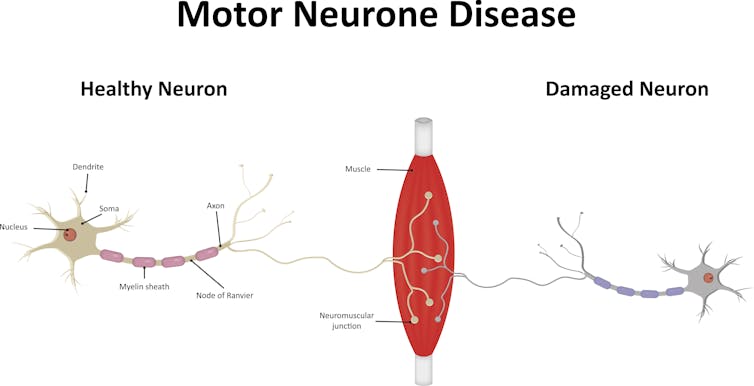 Authors: Justin Yerbury, Research Fellow in molecular genetics of Motor Neurone Disease, University of Wollongong
Read more http://theconversation.com/some-diseases-like-mine-deteriorate-rapidly-disability-services-need-to-keep-up-106157