Written by

Bronwyn Smithies, PhD Candidate, The University of Queensland
Sign up to Beating Around the Bush, a series that profiles native plants: part gardening column, part dispatches from country, entirely Australian.
If you are observant enough in the Australian bush, you may be able to spot the spade flower, a member of the violet family. Spade flowers grow under the semi-shade of open eucalypt forest, among other little green herbaceous plants.
This often-overlooked member of Australian flora hides some interesting secrets, including a rare chemical that may hold the key to turning regular plants into medicinal cures.
Read more: The art of healing: five medicinal plants used by Aboriginal Australians
The common name spade flower refers to the flower's shape, which is dominated by the spade-shaped labellum. Its botanical name, Hybanthus enneaspermus, is equally descriptive. The generic name Hybanthus means "humpbacked flower", referring to the posture of the flowers. Meanwhile, the specific name enneaspermus means "nine-seeded", because upon maturity each tiny 5mm fruit splits into three sections bearing three seeds each.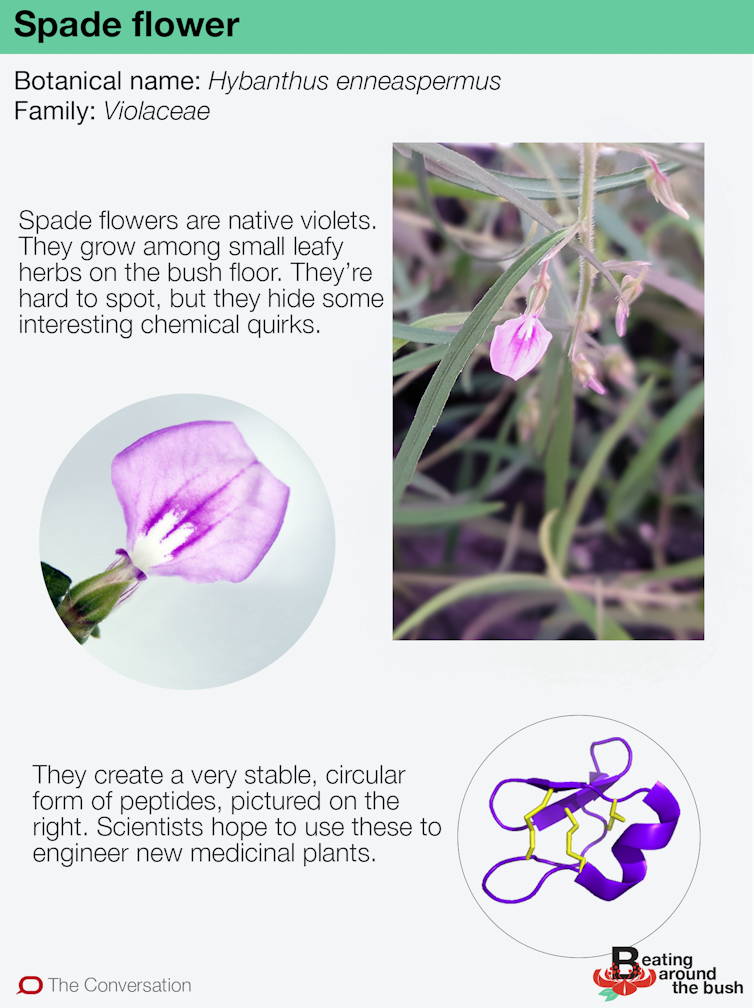 Authors: Bronwyn Smithies, PhD Candidate, The University of Queensland
Read more http://theconversation.com/the-humble-spade-flower-moonlights-as-the-love-shrub-110973