Written by

Edgar Liu, Senior Research Fellow at City Futures Research Centre, UNSW
People's quality of life, their health and their comfort can suffer when living in poor-quality housing. It can also impose high ongoing costs of maintenance, repairs, heating and cooling. And these problems are more likely to affect low-income households, as our report for Shelter NSW shows. In it, we review the evidence on housing quality problems and consider ways to resolve these, especially for low-income households.
There is extensive evidence of the impacts of poor-quality housing on physical health, mental wellbeing and comfort. For example, poor design and maintenance can lead to the build-up of mould.
Read more: Is this a housing system that cares? That's the question for Australians and their new government
These negative impacts vary by income groups and tenure. From the recently completed Australian Housing Conditions Dataset we know, for example, that renters on very low incomes (the bottom fifth of households for gross income, about $20,000 a year) are most likely to have unmet repair needs. They also have a harder time staying comfortable during winter and summer, as the table below shows.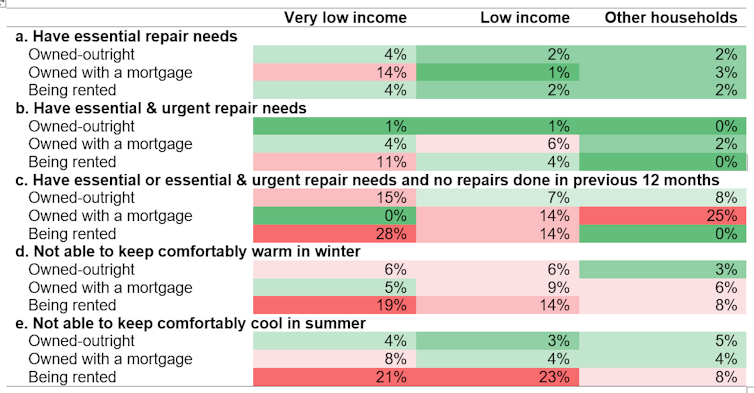 Authors: Edgar Liu, Senior Research Fellow at City Futures Research Centre, UNSW
Read more http://theconversation.com/chilly-house-mouldy-rooms-heres-how-to-improve-low-income-renters-access-to-decent-housing-116749