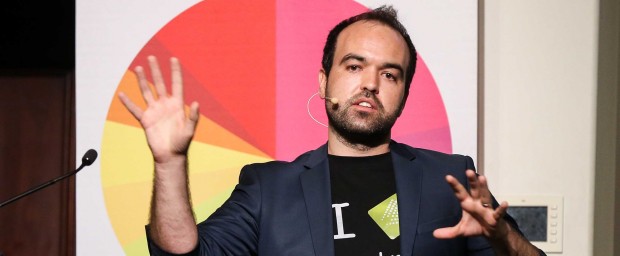 Sydney's status as a global hotspot for innovation is set to grow as the City of Sydney's new tech startups action plan gives entrepreneurs support to launch and nurture new businesses.
Following extensive community consultation, the City's plan to foster a vibrant tech startup ecosystem will help raise the profile of innovative tech startups, support industry programs that provide entrepreneurship skills and knowledge, cut red tape and connect startups with investors.
Lord Mayor Clover Moore said the City was already home to Australia's highest concentration of tech startups, but there was plenty of potential to grow.
"As we move away from an economy built on digging up coal, Sydney's thriving startup scene will play a crucial role in building a sustainable long term economy," the Lord Mayor said.
"We've developed our tech startups action plan to encourage more people to take the risk on starting a high potential startup, to increase opportunities for them to access investment and talent, expand office and event space, create a more connected ecosystem, and reduce the regulatory barriers they face.
"We know there's fierce international competition for the jobs and economic benefits tech startups can bring. We've listened to our residents and the entrepreneurial community, making the most of their insights, skills and knowledge to help draft a plan for making Sydney a globally competitive tech startup hub."
"The needs of tech startups are often very different to those of other small businesses. To create the jobs of the future, we need to find ways to develop more skilled entrepreneurs, particularly women, and enable them to scale and succeed in a large and often global market.
The City's draft plan was viewed by more than 3,000 people during a three month public exhibition late last year. In total, nearly 400 people and organisations gave feedback through an online survey, discussion forum and written submissions.
The feedback called for more skills and knowledge training to help start and scale business through programs, workshops, seminars and international speakers.
Sydney has already established its credentials as a leading tech startup hub. Startup Muster's 2015 survey found Sydney city centre had the majority of these startups, with 44 per cent of all startup companies in Sydney (Melbourne came next with 17 per cent).
Stephane Ibos is the CEO and co-founder of Sydney-based global tech startup success story, Maestrano, which provides integrated cloud apps for small to medium businesses.
"Sydney is a vibrant multi-cultural city that is without a doubt a great place to start a tech startup, and we're proud to be part of such a vibrant eco system," said Mr Ibos.
"With a solid and properly built action plan, I'm sure that City of Sydney will provide the support our startups need to thrive and reach a global scale.
"Helping startups access mentoring and capital, and supporting them in getting their first clients and define their go-to-market strategies, will undoubtedly help many aspiring businesses grow faster and improve their robustness," he said.
The startup economy2013 reportby PricewaterhouseCoopers predicted the Australian tech startup sector could generate more than 500,000 jobs by 2033.
Mark Pesce, startup entrepreneur and host of the startup podcast This Week in Startups Australia (TWISTA), says the support from the City is vital for the startup ecosystem to thrive.
"This formal support plan gives all stakeholders a clear vision for where, how and when the can assist with the growing needs of this ecosystem," Mr Pesce said.
"It's an important signal to investors that Sydney is a great place to grow a business."
The City already supports local tech startups through a number of events, including:
CeBIT business technology conference, which brings together global leaders in tech innovation;
REMIX, an Asia-Pacific summit with keynote speakers, panels, masterclasses and debates for entrepreneurs;
Global Coworking Conference Unconference that brings together local and international experts on design, technology and branding;
Startup Week Sydney, a week-long event that helps budding entrepreneurs plug into the global tech startup market;
Springboard Enterprises Australia,a fast-track accelerator program to support up-and-coming female entrepreneurs; and
The popular 101 Business Seminars produced by the City, featuring tech startup sessions, which are also available as podcasts.
For more information on what the City does for business, visitcityofsydney.nsw.gov.au
To read the consultation report and the final plan, go tosydneyyoursay.com.au/tech-startups-action-plan