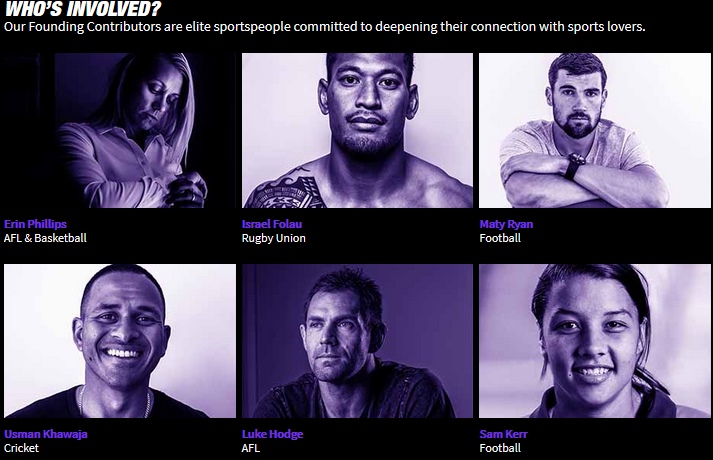 Australia's leading sportspeople today push the button on PlayersVoice.com.au – a new destination that promises to deepen the connection between elite sportspeople and sports lovers, while helping brands to move from the sidelines to centre of consumers' engagement with sports content.
The PlayersVoice vision is to enrich the soul of Australia's great obsession - sport - with its Founding Contributors setting the standard through creating and sharing their thoughts, hopes, dreams and fears in their own words, focusing on 'The Human Behind the Headline'.
Creating the new benchmark for Australia's 7,500 strong elite sportspeople, will feature powerful contributions from Founding Contributors Phillips, Folau, Ryan, Fitzgibbons, Khawaja, Kerr, Ingles, Smith, Hodge, Kyrgios, Horn - and many more. Each have committed to lead by example and establish PlayersVoice as the purpose-built platform for all elite sportspeople to engage more deeply with their supporters and all Australian sports fans.
PlayersVoice spent several months talking with elite sportspeople, fans and brands listening to the needs and wants of a broad subset of stakeholders including Australia's seven million plus engaged sports fans. The key learnings were:
1. Sportspeople and fans want more balance and substance in sports media – clickbait and the overly negative focus on sportspeople has gone too far.
2. Social media networks and 'snacky' behind the scenes athlete publishing platforms are great for staying up to date and connected but lack the substance and relatability that sportspeople, fans and brands want and need.
3. A power shift is occurring in sport towards sportspeople; there is a void in terms of how and where they build and define their personal brands and engage more deeply with their current fans and all Australian sports lovers.
4. Digital advertising metrics are highly flawed, branded content needs more ROI and context and relevance are more important to marketers than ever before.
Kerry McCabe, CEO of PlayersVoice, said: "From a marketing perspective, PlayersVoice is a brand safe environment where our initial testing supports that brands are welcomed by users vs. resented for bombarding them with digital banners. Having 100 per cent share of voice in a relevant environment is a part of that, as is the opportunity for brands to disseminate their premium content to an audience in a heightened state of receptivity."
With regards to the PlayersVoice attitude and approach to creating value for brand partners, McCabe added: "We have made some big calls in the interests of our users, Contributors and brand partners. To ensure a premium environment we will have no gambling presence on the platform and there will be no traditional display advertising. In terms of audience data, we don't believe we will have the biggest sports data asset in Australia but we are committed to building the richest. This will include understanding and activating marketing communications around intimate sports tribes, user mood and connecting user online and offline behaviour. Rather than being protective around our data we will help our brand partners to shift the needle on brand metrics on our platform whilst equipping them with consumer data and insights to better optimise their marketing activities outside of our environment. This is both an attitude to data and a technology capability."
Behind the scenes, PlayersVoice has a board and group of specialist advisors with expertise in sport, business and digital media. Sporting greats and media personalities include George Gregan, Liz Ellis and Paul Roos.
Director, Liz Ellis, said of the launch: "PlayersVoice has no desire to compete with live sports, sports news or social networks which are well serviced markets. It will be the home of raw sports content in Australia - not always positive, not always warm; but always real. Because it will be the trusted platform advocated by elite sportspeople, sports lovers get to see the real view of the person beyond the hype. It will connect fans with sportspeople like never before."
As well as regular one-off contributions from elite sportspeople performing in Australia and around the world, the platform is also developing numerous video series in partnership with current and former elite sportspeople. 'Transitions' will be one of the early release series – deeply exploring the mental, emotional and physical adjustment, trials, tribulations and successes of elite sportspeople on their journeys.
For more information, see www.playersvoice.com.au
The PlayersVoice vision is to enrich the soul of Australia's great obsession – sport – through deepening the connection between elite sportspeople and fans.
In partnership with Australia's elite sportspeople, we have built the home for rich and raw sports storytelling, told in the first person.
No beat-ups. No clickbait. No agendas.
We've created a community for our audience to feel an emotional and/or intellectual connection to 'The Human Behind The Headline'. PlayersVoice is a safe and premium environment; no gambling promotions, no disruptive digital ads and no place for keyboard warriors.
The PlayersVoice movement starts now. We promise to be different. We're the destination for sports lovers who want to know more than the score; like reading a chapter from a great autobiography but in real time.