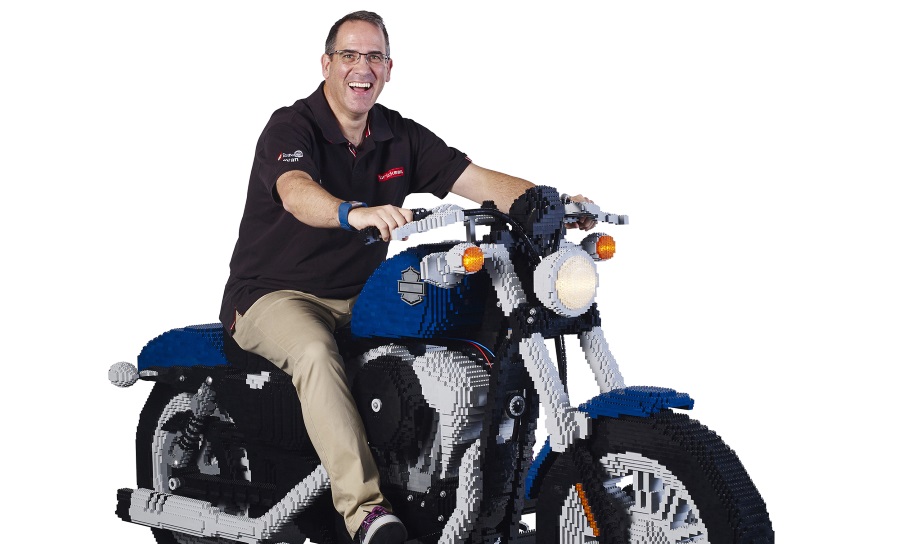 Ryan 'The Brickman' McNaught is smashing another 'awesome' LEGO® record with his latest Brickman exhibition and he's on the hunt for Australian brickies to help him along the way!
Brickman Awesome presented by Toyota is kicking off its national tour in Sydney next month and has already broken LEGO® records before it has even opened!
Opening on Boxing Day at the ICC Sydney, Convention and Exhibition Centre, Brickman Awesome will entertain LEGO® fans until 4th February 2018, before continuing around Australia, stopping in Melbourne, Perth and Brisbane.
Marking Ryan's third exhibition made entirely from LEGO® bricks, Brickman Awesome will showcase the tallest LEGO® model in the Southern Hemisphere – a NASA SLS rocket standing at a whopping 7.5m tall and built from more than 450,000 bricks! Taking more than 500 hours to create, Ryan has pushed LEGO® building boundaries by installing an in-built lighting system giving the effect that the rocket is blasting off into space!
The exhibition will be made up of 38 never-seen-before LEGO® models, totalling more than 1.5 million bricks and clocking up more than 4,500 hours of build-time! Brickman Awesome will also showcase the only life-sized LEGO® Harley Davidson ever made and the largest ever LEGO® Caterpillar 797 dump truck! Adding to the awesome-ness is a full-sized LEGO® Australian saltwater crocodile, weighing over 60kgs and built using more than 40,000 LEGO® bricks!

If that's not awesome enough, visitors will be forgiven for thinking they have stepped inside a zoo as they find themselves surrounded by a LEGO® Kangaroo, Koala and even a giant Orca Whale!
Brickman Awesome has been exclusively curated by Ryan McNaught and his expert team – Ryan is the only LEGO® Certified Professional in the Southern Hemisphere and one of only 14 in the world.
"Brickman Awesome is my third Australian exhibition and I'm really excited to launch its national tour in Sydney on Boxing Day. We have smashed some LEGO® records in this exhibition with the tallest LEGO® rocket, the largest LEGO® Caterpillar dump truck and the only life-sized LEGO® Harley Davidson ever made – they're AWESOME!
"And we're not just stopping at those LEGO® records, we'd like to get another one! We want to build Australia's longest LEGO® model – a giant snake - but we need all the budding Australian brickies out there to help us. The Brickman team has already built the head and the tail but we need everyone who visits the exhibition to help us build the belly too!" said Ryan McNaught.
LEGO® fanatics will have lots of opportunities to show off their building skills at Brickman Awesome – visitors can help the Brickman team expand their LEGO® colony of Emperor Penguins, build their very own time machines and even put them on display next to Ryan's LEGO® models of Doctor Who's TARDIS and the DeLorean from Back to the Future!
"I love to see kids and adults getting stuck in and letting their imaginations run wild with what they can build and that's why at Brickman Awesome there'll be two million LEGO® bricks just for visitors to build with and display their creations. Australia – if you're up for the challenge – show us how AWESOME you are!" added Ryan.
There will be a 24 hour Toyota and TEG Live pre-sale starting at 9am on November 30th and tickets will go on sale to the general public at 9am on December 1st. Tickets on sale at www.ticketek.com.au
Telstra Thanks is offering a 20% discount on exhibition tickets from 9am on Friday 1 December until 5pm on Monday 11 December, exclusively for Telstra customers. Head to telstra.com/arts for more details on how to purchase.
Brickman Awesome will be in Sydney from 26th December 2017 until 4th February 2018 at the ICC Sydney, Convention and Exhibition Centre, before continuing around Australia, stopping in Melbourne, Perth and Brisbane.
BRICKMAN AWESOME

Sydney: ICC Sydney, Convention and Exhibition Centre
26 December 2017 – 4 February 2018

Melbourne
Venue and dates coming soon
Perth
Venue and dates coming soon
Brisbane
Venue and dates coming soon

Open daily. Booking is advisable.
Tickets on sale at www.ticketek.com.au
facebook.com/brickmanexperience
twitter.com/brickmanexp
instagram.com/brickmanexperience
#brickmanawesome
ABOUT BRICKMAN
The Brickman is a team of skilled LEGO® artists and craftspeople led by Ryan McNaught, aka "The Brickman". Ryan is a LEGO® Certified Professional, one of only 14 in the world and the only one in the Southern Hemisphere. Ryan and his team have built some of the world's largest and most detailed LEGO® models, and are responsible for building models for LEGO® offices around the world. Having produced two touring exhibitions and hundreds of models for museums, galleries and shopping locations globally, the Brickman team have garnered many prestigious awards for their works. Brickman maintain a unique style, which makes their creations some of the best and most recognisable in the world.

ABOUT TEG LIVE
TEG Live is wholly owned by TEG, Australasia's leading ticketing, live entertainment and data analytics company. TEG Live is a dynamic and diverse promoter of live content in music, sport, family entertainment, eSports and exhibitions. TEG Live connects millions of fans every year with unique live experiences and adds value to events with hospitality and sponsorship services.