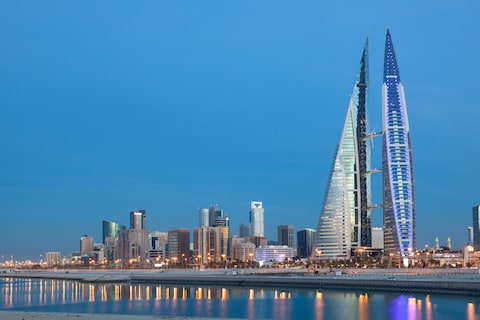 Considered one of the most competitive and lively real estate markets in the Gulf Cooperation Council (GCC) region. It has gained such status because of many factors including its geographical nature as an island, its relatively small area and its abundance of natural locations that are considered major investment and tourism attractions.
One of the major real estate market players in Bahrain is Bin Faqeeh foundation, which could establish itself as one of the strongest development companies in the kingdom ever since it was launched in 2008. This can be attributed to multiple reasons including the creative ideas and concepts that distinguished Bin Faqeeh's project from the other ones and the fact that most of the company's projects are situated in Bahrain's freehold areas – areas where foreigners who want to invest in Bahraini properties are enabled to do so.
This feature gives the freehold areas a competitive advantage since it can target international markets and not only the local ones. Bin Faqeeh's success was reflected in many occasions, most notable of which the many rewards that the organization won for its projects, performance and high quality standards.
For example, in Arabian Property Awards 2016, Bin Faqeeh won the best residential project in Bahrain reward for its residential projects Liyan, as well as multi-purpose engineering rewards, along with Arab Contractors, for Waterbay project.
This year, to keep its rewards' streak going, Bin Faqeeh foundation won the Best Residential Project in Bahrain for The Treasure project which is currently under development in Dilmunia Island during MEED Awards' edition of 2018. The Treasure was picked for the reward over more than 90 other projects from UAE, Kingdom of Saudi Arabia, Sultanate of Oman, Kuwait, and Bahrain itself.
This reflected the many features the Treasure enjoys like its location, since Dilmunia Island is being developed to house a 165,000 square meter world-class healthcare city that would serve as an attraction for wellness tourism and would be provided with the most advanced equipment and research technologies, and most skillful calibers.
In addition to the above, the tower residents will enjoy a splendid water view of the Gulf waters and a close location to the airport located on the island. The project's residential units vary between one-bedroom, two-bedroom, and three-bedroom apartments and a penthouse. Also, the treasure includes multiple high-end amenities like an outdoors swimming pool, a gym, a private cinema, a spa, a play area, and a barber shop.
It is worth mentioning that The Treasure is not the only project that is being developed by Bin Faqeeh foundation currently; the foundation recently announced that it has begun working on West Waterbay project to convert it into a five-star hotel apartments' complex that is inspired by Hollywood architecture style. This project will be the first of its kind not only in Bahrain but in all of GCC.
The foundation has launched this new project in a huge ceremony in Four Seasons hotel which is situated right in front of Waterbay project. The ceremony was attended by major figures and investors from both the real estate industry and Hollywood including the famous American actor Steven Seagal.
All of this can tell us that the award which Bin Faqeeh foundation won this year will not be the last of its kind and that it is expected that we will see more of the foundation's successful projects in the near future which shall contribute to the kingdom's development and economic growth on one hand and brand it as one of the best tourism and investment attractions in the region on the other.