Written by

Editor on duty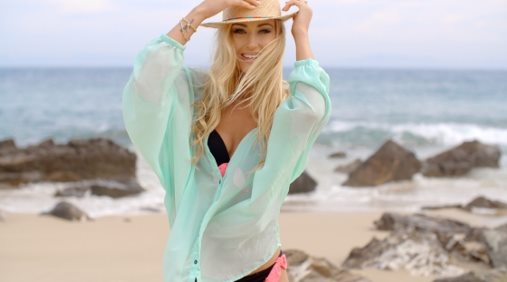 Your boyfriend just surprised you with a romantic beach getaway, SO AMAZING!
Thoughts of long walks on the beach, sipping fresh coconuts, and romantic poolside chats are dancing through your head. But don't let these daydreams get in the way of what you need to be focussing on; your perfect beach fashion! Read on for the hottest tips and the must-haves for the perfect beach getaway:
1. Sexy swimwear
Finding, buying and wearing the perfect swimwear will be the key to unlocking your perfect beach getaway. Overwhelmed on where to go? My top tip is that the designers at fellaswim.com are dedicated their lives to creating swimwear that fits every shape. When looking for a swimwear, find something that enhances what you love about your body while downplaying what isn't your favourite. Conservative is the new black, with classic one-pieces topping the trend charts this season.
2. Rectangles are so last season
I have two words for you: Round Towel.
The first time I lounged on a big round beach towel, I could NOT believe how much it changed my beach experience. From head to toe, wallet to watch, all of your bits and bobs safely reside on this luxurious round cotton heaven.
From a practical standpoint, the round towel is the only way to keep your body and belongings safe from all that pesky sand at the beach.
From a style standpoint, the round towel revolution is where it is at and anyone who knows trends will have one of these babies in their beach bag.
3. A floppy, playful hat
Is there anything better than catching a flirtatious glance with your beau from under the rim of an adorable floppy beach hat? A sunhat is a must have for both the beach cuteness factor and sun protection. Wearing a large brimmed hat can protect your face from soaking in too many rays that can, over time, cause wrinkles. Worried the big floppy look doesn't suit you? Don't worry, there are heaps of hats for various face shapes. So go on, choose one and pack it in your bag!
4. I'm all about that base
Everyone's favourite summertime trend is a good tan.
It goes well with everything! If you are finding your skin a bit pasty and pale leading up to the big beach getaway, it's time to call on our trusty friend self-tanner. These tubes of sunshine used to get a bad wrap, but new technology and increased demand have resulted in really high quality self-tanning options. Start building your base colour days before your trip so you hit the beach an already bronzed bombshell.
5. A totes cute tote
Don't be caught without the perfect beach tote! Your purse will be too small, a backpack too bulky. Your beach look wouldn't be complete without an adorable beach bag to hold all of the goodies that will keep you company as you soak in the sun. Don't forget to pack lots of water, sunscreen and a good book!
6. Last minute primping
Okay you are almost ready to go, just a few last minute primping tips to polish things off. Schedule a pedicure as close to your departure date as possible. Pick a colour that will go with both your swimwear and your fave beach dress. Book in to get waxed, bikini for sure, legs and underarm if you are brave. Otherwise, ensure you are smooth as silk when taking off and bring an extra razor for some fine tuning on the trip.
A day at the beach is a perfect opportunity to show off your love for fashion.
Using the tips above you will no doubt wow other beach patrons, especially your doting boyfriend. Your bags are packed, your base tan is solid, what left is there to do? Nothing girl, just sit back and enjoy the well-deserved break. The hard work is done, your perfect fashion is well planned and ready to be showcased.