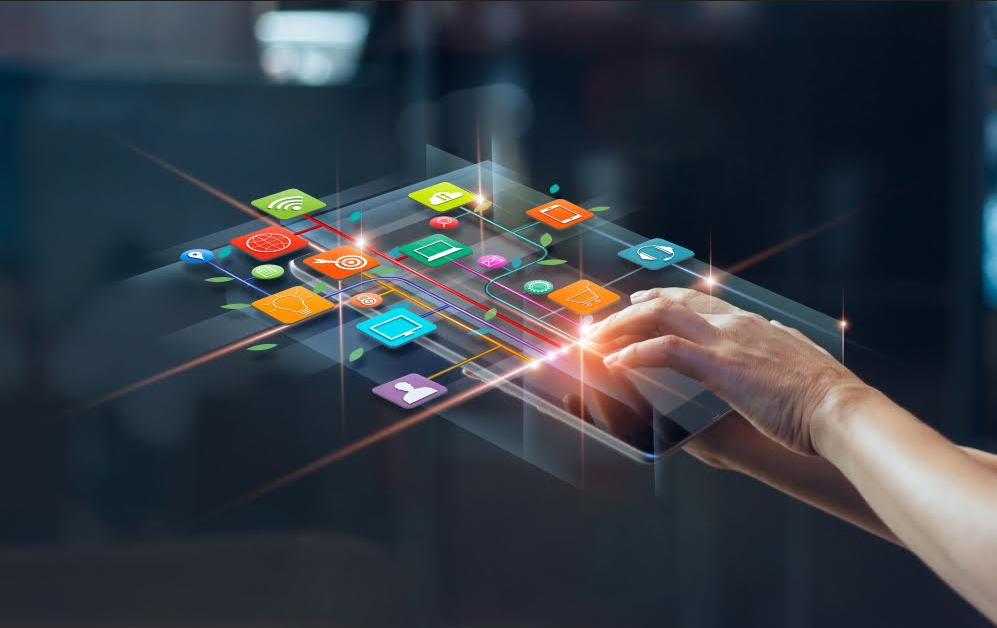 Think back five years ago. We were only seven years into the iPhone revolution and seemingly experiencing the beginning of a new age in consumer tech with tablets and laptops starting to replace desktop PCs. Fax machines were still in use. Compare that to today — where the average person spends more than four hours on their phone daily — it's hard to believe it was only a few years ago.
Our tech has grown to become very intuitive and user-friendly, further allowing us to consume and communicate information in unprecedented ways. In our daily lives, text messages are supported by emojis, Facebook Messenger chats are enhanced with GIFs, and Facetime video calls are thing of the 'now' rather than the future. Our daily digital social interactions have flourished with colour and images beyond black text on a white screen. And they've done so for no apparent reason other than we could and we wanted to – we naturally gravitate towards visual stimuli.
Visual communication in our social lives has spilled over into many B2C interactions. Companies have adopted this visual language and opt to communicate through text and video chat instead of phone calls for example or using GIFs and emojis in email campaigns. But many companies are failing to make the same changes internally in a world deemed too corporate.
With visual communication being the norm outside of the office, today's workers are experiencing hinderance in the plain text communication of the workplace. The result? Lost productivity, decreased competitiveness, reduced collaboration, and diminished employee engagement.
Making business sense
All businesses are unique in terms of size, goals, industries, and operations. Regardless, every organisation can benefit from increasing knowledge and information sharing internally. This includes giving your employees the tools they need to succeed, as well as adequately setting the stage for a shift in the way you communicate.
Furthermore, companies stand to make a dollar value from adopting visual communication internally. Leaders in visual communication, TechSmith, have conducted research into the rewards to be reaped by companies that are progressive in the space. It's estimated that $1,200 or more worth of productivity improvement could be recovered for each employee per year by using more visuals in workplace communication. For your employees, this translates into gaining an extra 34 minutes in their working week.
Where to start?
There are several ways that visuals can enhance your communications, allowing consistent messages across your organisation. While each department and team will have different needs and uses, here are some easily actionable ways you can boost efficiency today:
On-boarding and Training Videos: It's time-consuming to schedule face-to-face training sessions every time a new employee joins your organisation. It's also overwhelming to be a new employee with so much to learn from the start. Make on-boarding easier by creating narrated screencasts that show how to use your organisation's standard programs. Your employees will be able to re-watch it when they need a refresher, and you'll save time by avoiding in-person training sessions.

Software Rollout and Training: Use screenshots and screencasts to show your employees how to use new programs or software during an internal rollout. Teams also can provide answers to questions that are frequently asked, creating easy, repeatable responses for staff.

Recorded Webinars and Live Events: If your marketing or product teams are hosting a webinar or live event for customers, internally sharing the recordings will help keep all employees informed on updates. Those teams are already creating the content, so try to repurpose it.

Information Delivery: Information delivery might consist of giving an update, providing context, sharing results, or delivering additional background. If the information is coming out of a specific department, they may be able to explain the information quicker and easier using video, taking the burden off your team.

Building Buzz: Use high-energy videos to get your staff excited about an event, new opportunities, or company milestones. The best people to build a buzz around these scenarios are the teams involved. For instance, if your sales team surpassed its quota, that team would likely be excited to share the news with the rest of the organisation.

Providing Feedback: Giving and receiving feedback on content or projects can be challenging. Teams are often left waiting for input on projects. And sometimes that feedback is in paragraphs of text, leaving it open to interpretation. Using visuals to show specific feedback can reduce the time spent sending emails back and forth and helps everyone get on the same page. It also makes the approval process go much faster and smoother.
With the advent of social media and texting, we have naturally gravitated towards the use of visual communication. It only makes sense for the corporate world to follow suit and vastly improve the effectiveness and efficiency for communicating within an organisation. With a plethora of emerging and established visual communication software, your company could reap the rewards of regular visual communication. Implementing even just one of these areas will go a long way in boosting your internal communication bandwidth and unlocking your company's full potential.
To learn more about how to create visual content for workplace communication, visit techsmith.com/blog.