Written by Tess Sanders Lazarus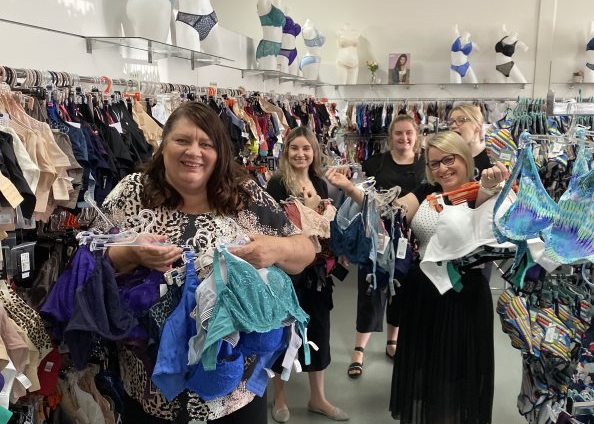 Despite COVID-19 closing parts of the country down and putting much of Australia's retail sector on a government respirator – one retail business in Brisbane has dodged the virus. Big Girls has continued to grow month on month since March this year. In fact, online orders have increased by over 50 percent forcing the business to more than double its staff numbers since the beginning of March this year.
Big Girls is Australia's largest retailer of lingerie and swimwear for women of all sizes. The business' facilities, showroom, studio, café, and distribution centre is located in north Brisbane and it is the size of four tennis courts.
"COVID is challenging everyone at the moment but for us it has delivered thousands of new customers as women all over the country move to purchase their bras online," Big Girls founder and CEO Karen Edbrooke said today.
"In fact, we are celebrating our 28th birthday this year. We have been operating for 28 years and we are inviting everyone to join in the fun.
"I am absolutely ecstatic that our business has grown to become one of the most loved brands in the country. Many women that started shopping with us years ago have already introduced their daughters to us."
Edbrooke and her team are celebrating with their customers in style. They have organised huge giveaways for customers throughout the year. Offers and activities are being posted on their social media.
According to Edbrooke, things haven't been easy. "Once COVID-19 hit, my team and I worked hard to move all of our services online. Women's need for bras and fittings has not gone anywhere. As a business we have been determined to make sure that we continue to support the community during this difficult pandemic and also continue to grow and evolve as a much needed retailer."
Throughout the lockdown, and into the future, Big Girls has committed to providing additional virtual bra fittings for women over the Internet.
"We now have nine virtual fitting rooms open for extended hours to help women access bra fittings from home. My staff are providing virtual fitting services full time to help women across the country access the bras they need while working or isolating at home," Edbrooke added.
"Virtual fittings are delivered through Skype or Facetime and enable women all over the country to undertake a virtual fitting with a fitting specialist from the convenience of their own home.
"If for any reason the bra we send doesn't fit, we simply send another one. It has become such a popular and much needed service.

"Not even COVID can dampen our birthday celebrations. We are already planning what we are going to do for our 30th birthday!"
Big Girls is Australia's largest independently owned lingerie and swimwear business, providing the country's most extensive range of fashion products.   It also is one of the country's biggest retail innovators, offering virtual fittings and its latest innovation, Big Girls TV.   Big Girls TV is an online lingerie show for plus size and curvy women delivered via the internet.   Shows include the live streaming of lingerie fashion parades and other informational segments using real life everyday Australian women as models and the inclusion of a presenter who comperes the segments and responds to questions real time sent in from viewers during the course of the show.   The team at Big Girls Don't Cry Anymore affectionately call the new online TV channel 'BGTV'.   BG TV shows regularly attract hundreds of thousands of viewers.  Big Girls has also expanded its virtual fitting service and now offers nine virtual fitting rooms during extended hours to assist women working and in isolation.