Written by

James Doughney, Emeritus professor, Victoria University
The loss of international students due to COVID-19 restrictions, and predicted second semester declines, will see universities lose between A$3 and 4.5 billion, according to Universities Australia.
The higher education sector was dealt another blow this week when the government said universities wouldn't get the increased access to the A$130bn JobKeeper fund for registered charities.
Universities estimate more than 21,000 jobs are at risk in the next six months, and more after that.
On April 3, Prime Minister Scott Morrison said about international students:
If they're not in a position to support themselves, then there is the alternative for them to return to their home countries.
This was chilling in its indifference. The Commonwealth has good reason to support universities hit by falling international student revenues as part of its pandemic stimulus measures.
Current university jobs depend on this revenue. According to a Deloitte Access Economics report commissioned by Universities Australia, universities contributed A$41 billion to the Australian economy and supported a total of 259,100 full-time jobs in 2018.
The government also has good reasons to support international students who have lost jobs and are not eligible for JobKeeper or JobSeeker payments.
Read more: JobKeeper payment: how will it work, who will miss out and how to get it?
International students in Australia contribute more than just the fees they pay. They also spend money while they are here, generating jobs and income in the broader economy.
In fact, the international education sector has become so economically significant that to burn it now will dampen Australia's post-pandemic recovery.
Just how significant?
Since 1985, when the Commonwealth allowed Australian universities and colleges to charge full rather than subsidised fees, revenue from international students has grown exponentially in real terms, flattened only briefly by the GFC.
Exponential is a familiar term in these pandemic days. It's another way of talking about compounding – growth on growth. The blue line in the below chart on Australia's education exports is exponential.
Total education exports – as Australia's national accounts categorise them – comprise both the fees international students pay and the amount they spend on goods and services while in Australia.
Chart one
Education exports as we know them today had grown from near zero in the 1970s to about A$37 billion last financial year (2018-19). In 2018-19, they comprised almost 40% of Australia's exports of services and 9% of exports of all goods and services.
By comparison, Australia's total rural exports to the world were about $44 billion last financial year.
Read more: The coronavirus outbreak is the biggest crisis ever to hit international education
Universities are scrambling to determine the size of the inevitable international student decline they will experience. For instance, on March 1, 2020 56% of international student visa holders from China were outside Australia, and Chinese students account for one-third of total education exports.
Chart two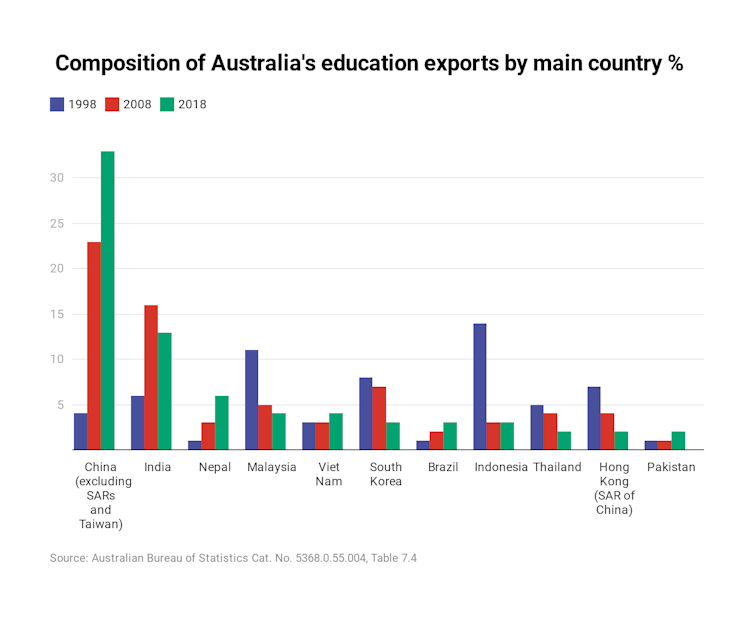 Authors: James Doughney, Emeritus professor, Victoria University
Read more https://theconversation.com/without-international-students-australias-universities-will-downsize-and-some-might-collapse-altogether-132869