Written by

Jack Vowles, Professor of Political Science, Te Herenga Waka — Victoria University of Wellington
As the dust begins to settle after the 2020 election, a new electoral landscape becomes visible. It is remarkably different from the one before.
One way to put this in perspective is by measuring what we call "vote volatility" — the net vote shift between parties from one election to the next. By this calculation the 2020 election has ended a period of relative stability.
More significantly, unless reduced after the final count, the net vote shift will be the biggest in over a century.
The challenge will be for Labour to capitalise on this landmark in New Zealand electoral history — before the wheel inevitably turns again.
The first Labour landslide
Vote volatility is calculated by adding the absolute changes in parties' vote shares between elections, then dividing the sum by two. A score of 0 would mean parties all received the same vote shares as before. A score of 100 would mean a complete replacement of one set of parties by another.
Over the past century, New Zealand has had four elections in which net vote shifts have been well above the norm: 1919, 1935, 2005 and now 2020.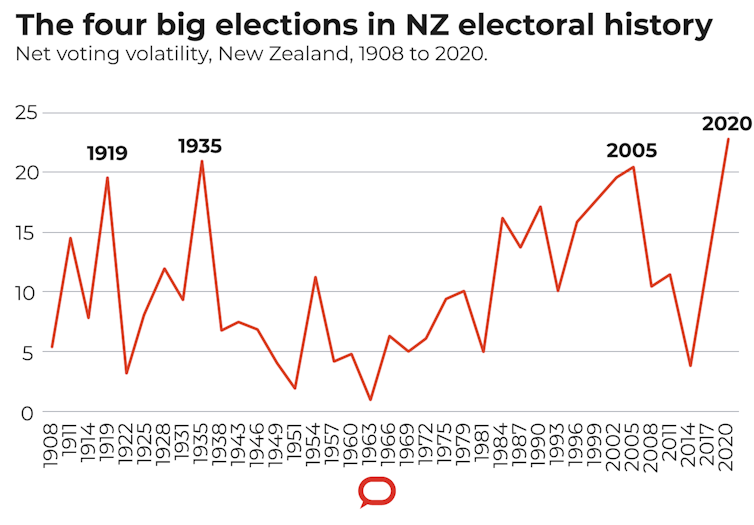 Authors: Jack Vowles, Professor of Political Science, Te Herenga Waka — Victoria University of Wellington
Read more https://theconversation.com/the-2020-nz-election-saw-record-vote-volatility-what-does-that-mean-for-the-next-labour-government-148330