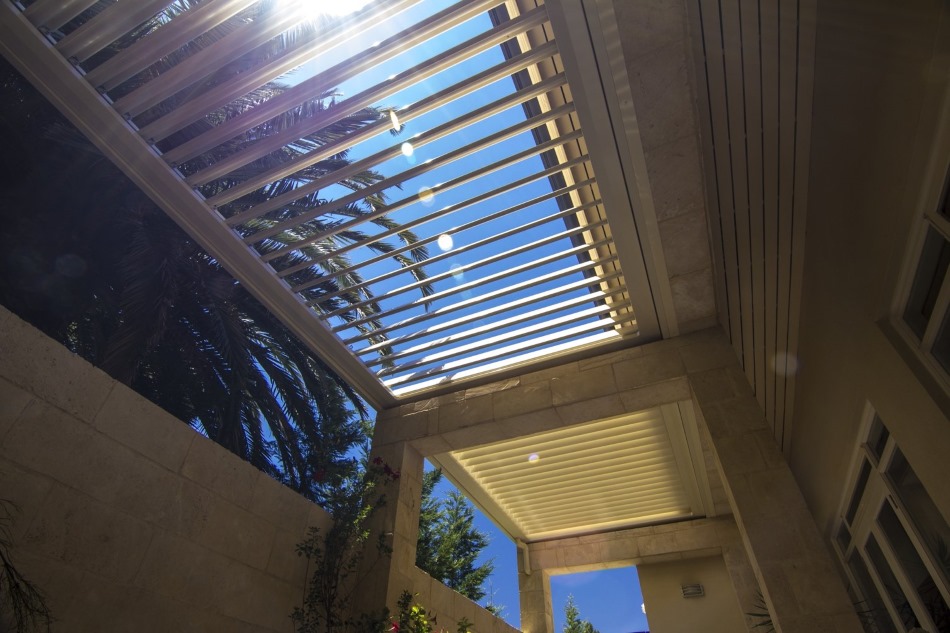 Louvres have not only become an increasingly popular choice amongst homeowners but also have become recognised as a sustainable, effective system for controlling the climate.
Suitable for commercial structures, industrial constructions, contemporary and classic homes, modern
aluminium louvre windows
are more weatherproof, cost-effective, easier to operate, and manufactured from better materials than their predecessors.
But that's not the only reason why they are such a hot item in the market and new homes; there are several other reasons to love louvre windows.
Air Flow
One of the many benefits of louvre windows is Air Flow. They provide more ventilation than most other windows - Thanks to the way in which they open!!
Unlike casement windows, louvre windows provide more consistent air flow into your property; they are not affected by the direction of the wind. They are also easy to operate and provide ventilation in rooms with taller ceilings - Thanks to a handy rod that comes with out-of-reach louvres.
Louvre windows provide maximum ventilation - which keeps your property cooler and healthier - one of the most compelling reasons to love louvre windows.


Energy Efficiency
Another advantage of louvre windows is that you can use them to reduce your home's energy use.
This may come as a surprise, but louvre windows are a great alternative to exhaust fans. They help avoid moisture build up and allow steamy air to escape, and hence can be used instead of exhaust fan in your bathroom. They can also be used in other rooms to provide cooling and ventilation, minimising the need for air conditioning and fans.
If you want to save money, energy and the environment, then you might love incorporating louvre windows in your home.
Natural Light
With louvre windows, you can manage the amount of light entering your house.
Louvre windows made up of clear glass can flood your home with natural light. On the contrary, if you want to minimise the amount of light and control the heat entering your property, you can choose energy efficient, frosted, or coloured glass louvre windows.
Whatever your natural light preferences may be, you can always get a louvre window option to suit your needs.
Aesthetics
One of the top benefits of using louvre windows is that they look great! Stylish, sleek and contemporary, today's modern style louvre windows do not have the awkwardness of old-style louvre windows. You can pick from a variety of glass options or with timber or aluminium louvres. Aluminium requires little maintenance, doesn't rust and is resistant to corrosion. Thus, allowing aluminium louvres to have a long life and keep its presentation without being impaired by the weather conditions. Louvre windows don't have to be built on functional purposes.
They can be painted and transformed into an aesthetically pleasing add-on that will enhance your building's appearance when the right colour and finish are chosen.


Easy Cleaning
One thing you should know about louvre windows - that no other easy-to-clean window has ever been invented.
When you are cleaning your louvre windows, you can probably clean your entire window pane, inside and out, from inside your property. This is mostly useful for non-ground floor windows that are not easily accessible, and for the days when you are just
feeling a little lazy
.
Knowing that no one really enjoys cleaning windows, this is the most compelling reason to use louvre windows.
Security
Modern louvre windows are made with optional keyed levels. Gone are the days when contemporary window louvres were an invitation to intruders.
You can now lock modern window louvres in place for added security. You can also install security or insect screens with you louvre windows. For lower level windows, you must choose to insect security screens as they provide higher protection, without compromising your views.


Final Thoughts
Custom made, high-quality louvre windows can be used to beautify any room in your home. They not only make your heating and cooling more efficient, but they are such effective ventilators that often allow you to save money on air conditioning. Louvre windows also tend to allow natural light in, while blocking direct sunlight due to their design.