Written by

Andrew Podger, Honorary Professor of Public Policy, Australian National University
On page 132 of Clive Hamilton's highly charged attack on China and Australian leaders' encouragement of closer ties, he reports that our former ambassador to China, Geoff Raby, "lamented the influence of the defence/security establishment which … was placing too much emphasis on 'values' rather than economics".
This idea of a conflict between a defence view that emphasises democratic values and human rights, and an economic view that does not, lies at the heart of the book. But is it right?
Influenced, it seems, by some in the defence establishment, Hamilton believes the Cold War never ended in Asia. Rather, China's ideological war "fiercely" intensified after the collapse of communism in Eastern Europe, with its Leninist party consolidating its position, particularly under President Xi Jinping.
Hamilton paints a picture of unrelenting determination not only to control those within China but also to dominate the world using whatever means at its disposal. To Hamilton, China is "Australia's enemy".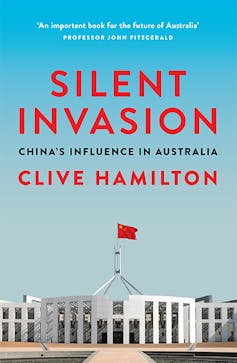 Authors: Andrew Podger, Honorary Professor of Public Policy, Australian National University
Read more http://theconversation.com/book-review-clive-hamiltons-silent-invasion-chinas-influence-in-australia-93650