Written by

Tara McAllister, Research Fellow, University of Auckland
The number of Māori and Pasifika students attending New Zealand universities has been increasing steadily, with 75,625 Māori and 32,465 Pasifika enrolled in 2018.
But for many of these students, they will not be taught by Māori or Pasifika throughout their degree. And depending on their discipline, they may not get to work with a Māori or Pasifika advisor during their postgraduate years either. This not only affects Māori and Pasifika but also reinforces to all of New Zealand that "experts" are not Māori and Pasifika but most likely Pākehā (New Zealanders of European descent).
In our research published this week, Why isn't my professor Māori? and Why isn't my Professor Pasifika?, we analysed the number of Māori and Pasifika faculty at New Zealand's eight universities – and highlight that Māori and Pasifika scholars are severely under-represented, making up only 5% and 1.7% of the academic workforce, respectively. This is in contrast to 15% identifying as Māori and 7.4% as Pasifika in the 2013 census.
Read more: Diversity is indispensable to excellence: The Canada Research Chairs program
Influencing thinking
Universities are charged with being the conscience of society, creating new technologies, informing policy development and providing ways for us to understand the world we exist in. If all of these roles are carried out with little to no Māori and Pasifika input, then Pākehā views will go on to influence the wider New Zealand society.
Of further concern is that, despite the universties' expressed values of diversity and equity, these percentages have remained unchanged for six years.
Certain universities are doing better than others. From 2012 to 2017, 9-10% of the University of Waikato's academic staff were Māori, whereas only 2.5-5% of Lincoln University's staff were Māori.
But many of the Māori and Pasifika academics employed by New Zealand universities are in short-term contracts. Very few are in senior leadership roles.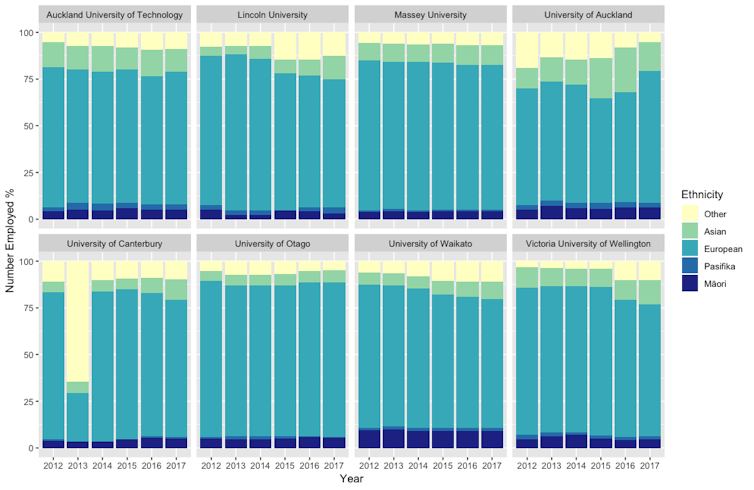 Authors: Tara McAllister, Research Fellow, University of Auckland
Read more http://theconversation.com/maori-and-pasifika-scholars-remain-severely-under-represented-in-new-zealand-universities-122330