Written by

Kate Griffiths, Fellow, Grattan Institute
Amid the ongoing bushfire and coronavirus crises – and the political kerfuffle surrounding the Nationals and Greens – you'd be forgiven for missing the annual release of the federal political donations data this week.
Nine months after the 2019 federal election, voters finally get a look at who funded the political parties' campaigns.
The data reveals that big money matters in Australian elections more than ever, and donations are highly concentrated among a small number of powerful individuals, businesses and unions.
These are significant vulnerabilities in Australia's democracy and reinforce why substantial reforms are needed to prevent wealthy interests from exercising too much influence in Australian politics.
Largest donations in Australian political history
The big story of the 2019 election was Clive Palmer, who donated A$84 million via his mining company Mineralogy to his own campaign – a figure that dwarfs all other donations as far back as the records go. The previous record – also held by Palmer – was A$15 million at the 2013 election.
While Palmer failed to win any seats last year, he ran a substantial anti-Labor advertising campaign, and claimed credit for the Coalition's victory.
Read more: After Clive Palmer's $60 million campaign, limits on political advertising are more important than ever
There are obviously many factors in an election win, but this raises a serious question: how much influence should we allow any single interest to hold over the national debate, especially during the critically important election period?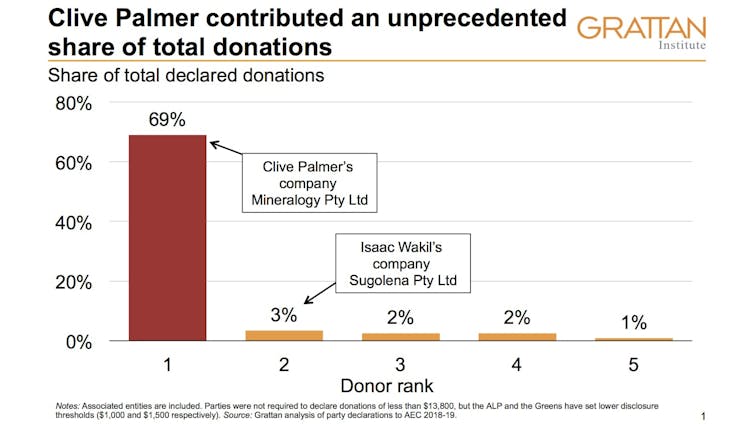 Authors: Kate Griffiths, Fellow, Grattan Institute
Read more https://theconversation.com/how-big-money-influenced-the-2019-federal-election-and-what-we-can-do-to-fix-the-system-131141