Written by

Jen Jackson, Education Policy Lead, Mitchell Institute, Victoria University
Prime Minister Scott Morrison has announced free childcare for more than one million families, with a funding boost that aims to keep more than 13,000 childcare services across Australia open.
In doing so, the government has backed its earlier recognition of early childhood education and care being an essential service.
Estimates suggest about 650 early childhood education and care services have already closed in Australia due to falling enrolments.
The government plans to pay 50% of the sector's revenue up to the existing hourly rate cap, based on the enrolment numbers before parents started withdrawing their children because of the COVID-19 pandemic.
It will only do this so long as services remain open and do not charge families for care.
Read more: Free child care to help nearly one million families, especially workers in essential services
The funding will apply from April 6 based on the number of children who were in care during the fortnight leading into March 2, whether or not they are attending services.
The plan will cost A$1.6 billion over the coming three months.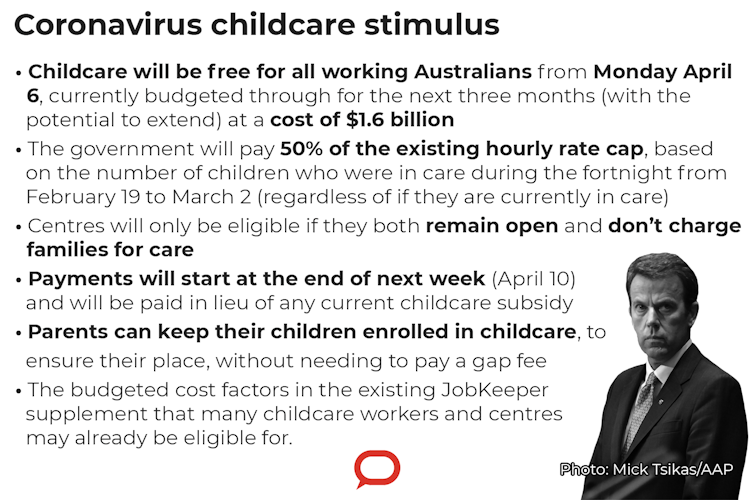 Authors: Jen Jackson, Education Policy Lead, Mitchell Institute, Victoria University
Read more https://theconversation.com/morrison-has-rescued-childcare-from-covid-19-collapse-but-the-details-are-still-murky-134798