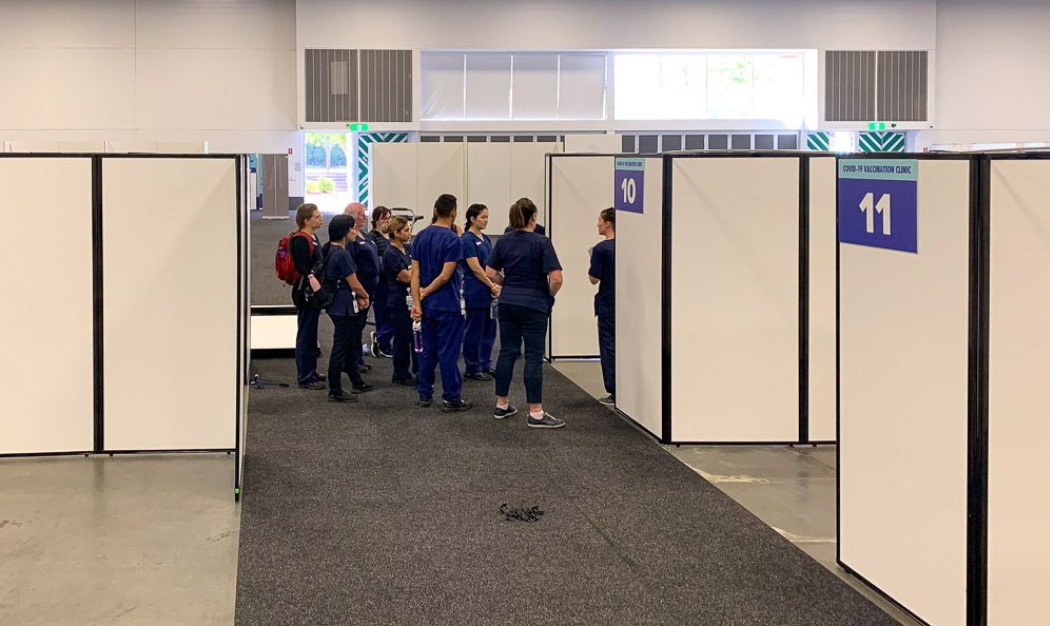 To scale up the South Australian vaccination rollout, Portable Partitions Australia were approached by SA Health to urgently provide 78 vaccinations booths across the Northern and Central mass vaccination sites. The Adelaide Showgrounds (Wayville) now has 36 booths and the Playford Civic Centre (Elizabeth) has 42 booths.
These two hubs will play a critical role in ensuring a safe and effective vaccine rollout across South Australia. Both sites have the capacity to vaccinate large volumes of people, up to 3,000 people a week, while maintaining social distancing.
"This was a very well-planned layout and design by SA Health, but the unavoidable urgency meant the deadline was very tight. Confirmation to completion was just over a week, which included manufacturing, transport, delivery and onsite set up of 78 vaccination booths with curtain rails, plus observation, resuscitation and acute monitoring areas. I'm sure all the other suppliers were under the same pressure," says Mr Haydar.
Spotless Services oversaw the logistics of the operation at both mass vaccination sites. Starting from an empty building, they had to coordinate the vaccination pods, furniture and equipment deliveries , electrical services and amenity spaces in approximately seven working days. All the booths and various areas needed power, desks, computers, seating, medical equipment, signage and curtains, as well as bollards to handle high volume traffic.
"There are obviously a lot of logistics behind setting up these mass vaccination hubs so quickly, to ensure they meet SA Health's requirements on a large scale. They need to have the ability to move people through quickly and safely," says Agency Operations Manager Robert Trimboli. "The scope of work was also constantly evolving and I am incredibly impressed how everyone worked so collaboratively together to pull this off, including SA Health and all the contractors. Portable Partitions Australia also had the interstate hurdle to overcome but their communication and commitment to service was impeccable. Nothing was too hard."
"We all worked around the clock and I am glad we could deliver an exceptional product in such a short period of time. While it certainly put the heat on, it was good to pressure test the agility of our team," continued Mr Haydar.
The vaccination booths are made up of vinyl finished panels with an easily wipeable surface for disinfecting. A big benefit to the logistical operation was that the booths did not require a huge amount of labour onsite.
"We assembled all of the booths onsite in a day. The reason we were able to do this is because the partitions are manufactured offsite in a factory, making assembly incredible easy once they are delivered," says Mr Haydar.
Portable Partitions Australia have been responding to various business requirements throughout the pandemic. Servicing Australia-wide, they previously produced and distributed COVID-safe Perspex screens to a variety of customer-facing businesses. Now they are hoping to use their expertise from the South Australian rollout to assist with similar vaccination hubs around the country.
"It's amazing to be part of such a large-scale initiative to protect the community's health. Now that we have this experience under our belt, we are keen and ready to help other states and regional areas in their response as well," finished Mr Haydar.
For more information visit ​www.portablepartitions.com.au​ or call ​1300 731 397​.