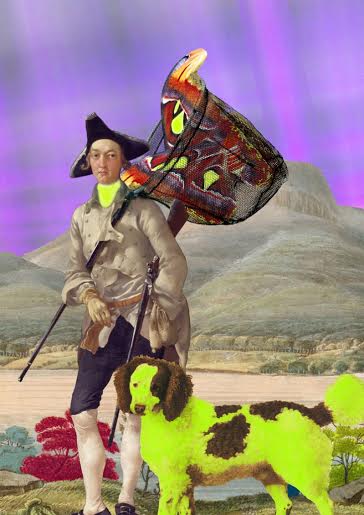 JoanRoss and Glenfiddich is proud to announce dual Blackheath and Bondi resident Joan Ross as the winner of the inaugural Australian Glenfiddich Artists in Residence Competition.  
Opened to Australian residents for the first time, the Glenfiddich Artists in Residence Competition invited artists to enter their work, using any array of mediums which include, but are not limited to print, photography, animation, performance and installation.  
The judging panel lead by Glenfiddich Artists in Residence Curator Andy Fairgrieve and including the Sydney Contemporary International Art Fair Advisory Council, made up by Australian actress Rachel Griffiths, former Lord Mayor Lucy Turnbull AO, Sue Kato, Mark Hughes, Nick Tobias, Dr Gene Sherman and Evan Williams.  
The judges were so impressed by the calibre of the entries they selected seven finalists instead of the originally planned five. The final seven included Joan Ross, Cameron Robbins, Marc Standing, Luke Storrier, Liam Benson, Deb Mansfield and Troy Emery.  
Joan was chosen as the winner as her body of work not only demonstrates her technique and skill as an artist through her hand painted prints and digital animations, but each of her works tells a unique story about Australian colonisation. Her use of Hi Vis Fluro is a feature throughout her work which is something she noticed an influx of after 9/11, and it is according to Joan "alien to the landscape and a metaphor for colonisation."  
"Given the incredible standard and quality of the seven finalists, it was never going to be an easy task to choose just one to join our residency program next summer at distillery, however I feel we have an outstanding artist and personality with Joan," said Glenfiddich Artists in Residence Curator Andy Fairgrieve.  
"Her carefully composed works in both print and video are not only visually stunning but deeply thought provoking. Given her artistic concerns surrounding appropriation of land through colonialism and the environmental issues she subtly addresses, I know she will find a rich vein of source material to inform new works once she sets foot on Scottish soil next summer. I look forward to welcoming her to the Glenfiddich Distillery next year."  
Since the Glenfiddich Artists in Residence Contest began in 2002, Andy has mentored over 100 artists through the distillery doors, each one of them always seeing the distillery with a unique view.  
The residency will take place in 2016 where Joan will have the opportunity to live and work for three months at the Glenfiddich distillery in Dufftown, Scotland alongside artists from Scotland, India, China Taiwan, Canada and Korea.  
Born in Glasgow, and growing up in Australia, Joan is influenced by the landscape and its connections. Her current work is based on British colonistation and first contact in Australia and the ongoing effect of this on Indigenous Australians. Joan hopes to keep this conversation open with her video animations based on early colonial paintings.  
"I am very excited; the Glenfiddich Artists in Residence program is such a great opportunity. I'm really looking forward to getting back to and reconnecting with my roots and discovering more about my heritage along with the chance to explore the Highlands. I have only been back once and was overwhelmed by the beauty of the landscape," said Joan Ross.  
"Being in a completely different environment and living and working in the distillery space will enable me to not only get stuck into my work but also provide me with a totally different source of inspiration."  
Joan's love of nature and attraction to land and landscapes is predominant in her work. This and her connection to Scotland are the main reasons applied for the Glenfiddich Artists in Residence Competition.  
"I felt so welcomed by all the Glenfiddich team; everyone was so warm and friendly. Meeting Andy was the best, he was so keen and enthusiastic and I had a really great time hanging out with him.  
"He really inspired me, and was very supportive of my ideas. I was particularly taken with his knowledge and interest in the politics of the highlands and I am very excited about learning more," said Joan.  
For more information visit http://www.glenfiddich.com/ or http://www.williamgrant.com/  
For further information on Joan's work visit Michael Reid Gallery or http://www.joanross.com.au/  
William Grant & Sons, Ltd. is an independent distiller founded by William Grant in 1887. Today, the luxury spirits company is run by the fifth generation of his family and distils some of the world's leading brands of Scotch whisky, including the world's favourite single malt Glenfiddich®, The Balvenie® range of handcrafted single malts and the world's third largest blended Scotch Grant's® as well as other iconic spirits brands such as Hendrick's® Gin and Sailor Jerry®.