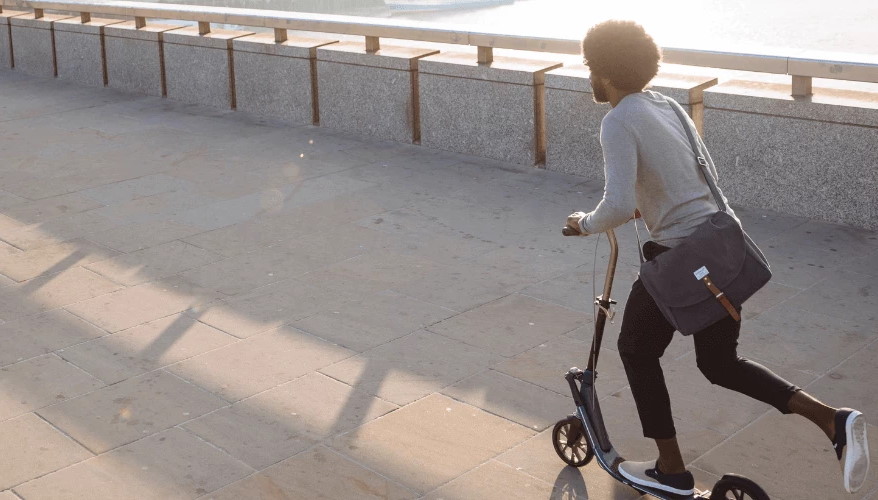 Whether you drive to work or hop on public transport you can guarantee that a healthy proportion of your hard earned cash is being spent on your commute- not to mention the daily caffeine kick that's necessary to help you deal with the stress of it all. What if I told you there was a way to still get to work on time but without splashing the cash? What if I also told you, you could improve your health and wellbeing and contribute to a more sustainable environment at the same time? Making the switch to an adult scooter can help you save money and start your day with a smile. Continue reading to find out why you should make the change towards an overall better lifestyle.


Save Money
On average, a person in Melbourne who uses their car to get to work spends approximately $1000 a month, including gas, parking and maintenance of the car. Yes, that's right $1000 a month. By switching to a more economical and healthier alternative you could put this money towards a property deposit or a luxury family holiday. I know what I'd rather spend my money on. A robust and sleek adult scooter could set you back as little as $180 and that one off payment will get you to work three times faster than walking for years to come. You'll also save money on parking or rail fares if you get the train to work leaving you a little extra cash for that morning coffee.


Improve your Health and Wellbeing
The last thing you want to do after a hard day at work is squeeze into your active wear and head to the gym. Using your scooter to get to and from work helps you kill two birds with one stone as you're getting in that essential exercise whilst commuting. A half an hour session on your scooter burns approximately 200 calories and is a great alternative to a cardio workout. Cardio workouts get the heart pumping and the blood flowing around the body and contributes to a healthy heart and lower cholesterol. Research has proven that exercise also releases endorphins that improve your mood and promote happiness and productivity- the best mood to be in when you walk through that office door.


Save the Environment
Scootering to work does not require gas or diesel, therefore there are no harmful gases emitted when using your scooter. Needless to say that this will have a positive impact on the environment. Opting to use your scooter a few times a week, instead of your car or public transport, is one of the simplest ways to lower your environmental footprint. There's no chance of you idling whilst your using your scooter, therefore no emissions and no noise pollution. As mentioned scooters require no gasoline which means they also don't need antifreeze or any of the other fluids vehicles need to operate. This helps ensure such fluids don't make their way into local waterways or the environment itself.


Easy Storage
Gone are the days of circling the parking lot looking for a space or approaching a space only to realise that the smallest car in the world is parked there. Gone are the days of having to walk from the parking lot to the office. When you use your scooter to get to work you'll also never have to find a place to lock up your bike and purchase an expensive bike lock. Adult scooters fold up and are lightweight enough to carry or store under your desk. The ultimate mode of transport when it comes to convenience.


Summary
When it comes to investing in a scooter to upgrade your commute there's really no reason why you'd choose anything else. Now you have all the information it's time to ditch the car and save the environment by heading down to the store and starting your scooter adventure.