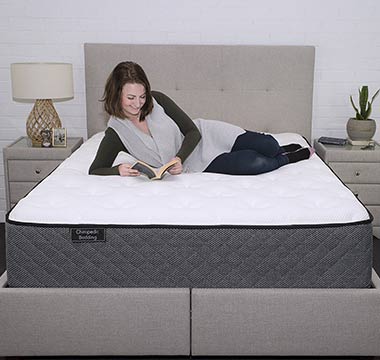 Choosing the right bed frame for your mattress makes your bed as comfortable as possible, while also protecting your mattress from premature ageing. Whether you're choosing a new bed for your own bedroom or buying a bed for your short term rental, choose the right frame and you will save yourself the hassle of buying a new mattress in just a few years.
Bed frame quality is directly related to mattress protection:
There is nothing worse than spending good money on a high quality mattress, only to roll into your partner during the night due to a sloping bed frame. Worse still, imagine having to replace your mattress after just a few years because it has become saggy in the middle. These frustrations can be avoided by considering a few key elements of high quality bed frames.
1. The size and spacing of slats can cause mattress sagging and deformity
Bed frames made from solid timber slats are a good option to lengthen the lifespan of your mattress as they offer solid, aerated support throughout your mattress. Their design also prevents sagging and uneven wearing of the springs in your mattress. Ensure the gaps between each slat do not exceed 10cm though, as any larger causes drooping and sagging of your mattress.
Look for timber slats with a very smooth finish, as this stops your mattress from getting splinter and scuff damage. You also want to ensure the slats can be fastened to the frame at each end, otherwise your slats can slide and bunch, causing drooping and damage to your mattress.
2. Good frame designs help prevent mould and mildew
When examining potential slat bed frames, ensure each slat is no wider than 14cm, as very wide slats minimise airflow and cause mould and mildew formation.
If you prefer a solid panel timber bed base, ensure there are a number of air holes drilled into the timber to promote air flow and prevent the growth of mould.
Watch out for in-built tech integration
Some bed frames offer built-in speakers, iPhone docks and device connectivity which become redundant in just 12 months. While digital integration may sound great, the speed at which technology moves makes these developments a bad investment in most cases. Instead, choose a high quality bed frame that offers great mattress support, and keep your devices separate from your furniture.
Consider the height of those sleeping on the frame
If you're choosing a bed frame for you and your partner, a very tall platform frame may be perfect as you have the height to make getting in and out of bed easy. If you're choosing a frame for your short term rental though, remember some of your guests may be must shorter or older than you. A medium height frame accommodates most people, and is the best choice for a rental or investment property.
When you're choosing a new bed frame, be sure to check for the features above to help your mattress last longer, suit those using it, and prevent it from becoming prematurely outdated.