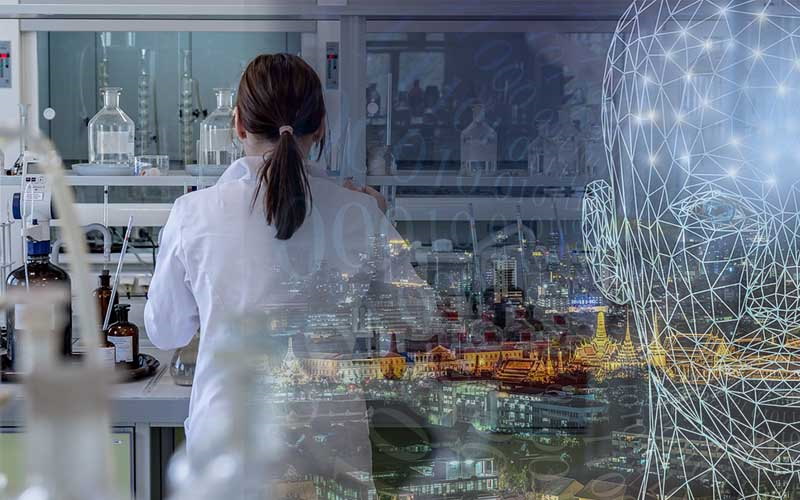 Have you ever wondered how your phone is getting smarter every day? How it is that it recognizes only your face to unlock itself or how does Google bring you all the answers after you ask the question? The answer lies in two terms - Artificial Intelligence and Machine Learning. Artificial intelligence (AI) is a bigger picture while Machine Learning (ML) is one of its subsets. If I had to put it in simple words I would say that AI and ML are training modules to train machines to simulate normal human behaviour.
Artificial Intelligence has not only transformed the finance and marketing industry, but it had also altered how the healthcare industry functioned before. Mentioned below are some of the ways in which AI and ML have transformed the healthcare industry:-
Smarter Diagnosis –
The first step towards the treatment of a condition is its correct diagnosis. With the help of AI, machines have been built that find problems just by looking at the scans. The data so collected is used for further training of the machine and making it smarter. AI has also aided in the development of programs to be used in the field of cardiology and radiology. These systems help in the early identification of cancer cells, which helps to initiate the treatment before it progresses to a lethal stage.
Faster Drug Discovery Process
Simple drug use to take at least 16 years to be developed, but with the advent of Artificial intelligence, the process has become much easier. Finding a potential drug target has become much easier; researchers can view the target site and develop a drug to inhibit the same. Moreover, they can also check the efficacy and toxicity of the drug at some time. The clinical trials can also be conducted in-silico at some levels. All these advancements have made the drug discovery process very easy and efficient.
Virtual Follow-up Systems
These days when you visit any healthcare website, you might be getting a chat pop-up at the site asking you if you need any assistance. Those are nothing but the AI-powered chatbots that not only ask relevant questions but also give appropriate answers. These chatbots have been specifically created to bridge the gap between patients and doctors. Even if a doctor is not available, the chatbots can still assist the patient in booking an appointment.
Smarter Prosthetics
With the advent of technology, prosthetics have been designed in a way that they completely look like real body parts. But, the only limitation was that they did not actually work like them. However, with the help of AI, such prosthetics have been designed that not only look like real body parts but also function like them. For instance, in some prosthetics miniature cameras have been incorporated which capture the image of things placed in front of them, scrutinize the image and react accordingly.
Personal Health Assistance
Keeping a track of your vitals such as blood pressure, heart rate, sugar levels, etc. has always been important for the assessment of the health status of a person. With the help of Artificial intelligence, devices have been created that can not only keep a track of your vitals but also suggest what you should do to stay healthy. For instance, your smartwatch not only keeps a track of your heart rate and blood pressure but also tells you how many steps you need to walk in order to burn your calories which would help you bring down your excess weight.
Artificial Intelligence has transformed the healthcare industry and the way hospitals functioned. Diagnosis has become easy and quick.