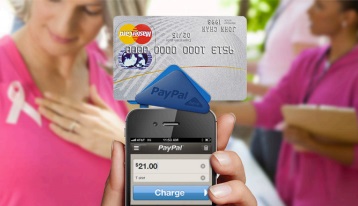 PayPal is one of the world's oldest only payment systems, making it possible to securely store your credit card details online, and to easily make a purchase online from one of thousands of online stores. One of the biggest advantages of PayPal is the fact that it is very convenient, saving you the hassle of having to type in your credit card details every time. But a little-known fact is that if you have a reward credit card, you could be earning points on every online purchase you charge to your credit card.

An additional benefit of using PayPal for online purchases is their Buyer Protection program which ensures you get a full refund if your purchases don't reach you, are damaged, or are in some way not exactly as advertised. Your credit card probably already includes fraud protection, but that only protects you against fraudulent use of your card, not damaged deliveries, which would need to be taken up with the merchant each time.
But I Already Earn Points When Using My Credit Card Online?
It is true that you would likely earn credit card points for any online purchases regardless of whether they are made using PayPal or the actual card. But not all online stores accept credit cards.
It's not uncommon to find merchants, particularly smaller online stores, that don't accept any payment method other than PayPal. When encountering that you would normally either have to look for a merchant that accepts credit cards and sells what you are looking for, or transfer funds into your PayPal account. Adding your credit card to PayPal changes that, and still allows to collect rewards for using your credit card. A further complication comes through having an American Express (Amex) card. Unlike Visa and Mastercard, which are accepted by most merchants allowing credit card purchases, Amex is still not accepted in many places – both online and offline. But it is possible to add an Amex card to PayPal, so while you might not be able to use your Amex card in some physical stores, you would still be able to use it for online purchases with retailers that accept PayPal.
What Should I Know About Using PayPal for Rewards?
It is important to know that while you could still earn reward points when using PayPal as a payment method, some card issuers and reward programs reduce the number of points you earn for each dollar spent. Early in 2018 some Amex cardholders saw the points they earned when using PayPal to pay some government bodies drop from two points for every dollar spent, to only half a point per dollar spent. The terms and conditions for your credit card and reward program should list any exceptions or limits for PayPal purchases, and you can look at Point Hacks too for more information when exploring the cards that offer the best reward points.