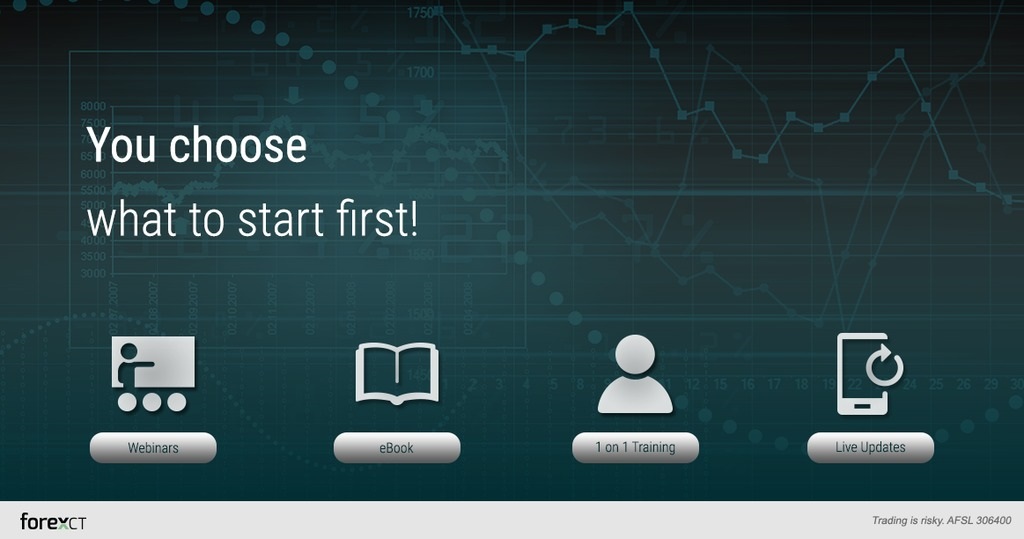 Whether you're a rookie or a veteran when it comes to the Forex (foreign exchange) market, it's a volatile and risky market either way. But with a $5 trillion-dollar daily turnover, it's extremely enticing at the same time.
Having a local partner that's been trading in the market for the last 13 years may be the answer to your Forex woes. ForexCT is a Melbourne based Forex broker that provides Forex and CFD (Contract for Difference) trading services. They focus on providing their customers 24/7 markets access through their secure online trading platform, comprehensive educational tools for those that need support, and outstanding customer service through their team of dedicated Account Managers.
It's a maze of information out there when it comes to Forex traders, so we've made it a bit easier for you. Here's a summary of the pros and cons of trading with this Forex Broker:


Pros


1.   ASIC regulated
ForexCT is regulated by ASIC (the Australian Securities Investment Commission) and is therefore compliant with industry regulations, which means that your investments have a level of protection.
ASIC requires licensed companies to meet certain requirements and to comply with various industry rules; customer's funds must be kept in segregated trust accounts. 
2.   Commission-free trading: Fixed spreads
ForexCT spreads are fixed and stay constant; they're not affected by market volatility. The fixed spreads make the trades slightly more expensive than variable spreads, but it gives traders, especially beginners, more control when it comes to their transaction and trade costs. You don't pay commission and you have more control; it's a win win.
3.   Guaranteed stop losses
This broker understands how important it is to their customers to manage risk, so they've made it easier by offering stop losses on every trade, at no additional cost. Guaranteed stop loss orders are an effective risk management tool for those who lean towards less risk, as well as those new to trading, allowing you to trade smarter and with more certainty; it helps protect your trades from market gaping or currency volatility.
4.   Choice of leading trading platforms
The company offers a choice between one of the leading Forex trading platforms, MetaTrader 4 (MT4), and their in-house solution, WebPROfit.
As an industry standard platform, MT4 provides all the tools a trader needs: technical indicators, an advanced charting package, a wide range of Expert Advisers (EAs) and an extensive back-testing environment. EAs do all the work and allow traders to sit back; trades are fully automated. MT4 is available on desktop and mobile.
WebPROfit, their in-house platform, is available on desktop, web and mobile; it allows traders to trade anytime and from anywhere. It provides a real time customization graphical representation of the market movements and of the user's trades. The platform offers various trading tools, news feeds and support. Suited for rookie's or experienced traders; it allows for instantaneous trade executions, so Forex brokers can enter and exit positions with one click.
The Australian broker's customers can also access Tradency's web-based Mirror Trader platform. It allows users to learn the trading strategies of top Forex and CFD traders from around the globe, and automatically mirror their trades in their own trading account.
5.   High leverage levels 
ForexCT's high leverage allows you to get more exposure while requiring less margins. You can open trades with minimal margin requirements and still benefit from the full value of the trade; their customers use leverage ratios up to 1:400.
6.   Ease of deposits and withdrawals
You can use a variety of deposit methods making it easier for you, including:  
- Credit/debit cards: Visa, MasterCard and JCB
- Bank wire transfer/EFT
- International Telegraphic Transfer
- BPay
Withdrawals are just a click away; you can hop onto their platform and easily withdraw funds directly which takes 1 - 2 business days.

Cons


1.   High minimum deposit 
When compared to other brokers, ForexCT's minimum deposit is high. A $500 minimum deposit is required when trading with them, whilst other Forex brokers offer competitive minimum deposits, or no minimum deposits at all. This may discourage first time traders and create a perception that they are money hungry.
2.   Slow trade speeds
The broker has a relatively low level of trade execution speed when compared to other global Forex brokers that have sophisticated IT setups, maximizing the speed of their trades directly to New York.
While their setup is less sophisticated, it's fixed spreads minimize the risk of slippage, so this shouldn't be a major concern for most traders.
3.   Negative customer reviews
After reading one ForexCT review after another, it's clear that there's a large number of negative ones out there. However, the Forex industry attracts a lot of criticism from customers due it's volatility and risk. Customers can be left disappointed and dissatisfied if their goals aren't achieved or their expectations aren't met.
A positive ForexCT review outweighs a negative one, with many customers commenting on their outstanding customer support service and exceptional educational tools.
4.   No variable spreads
An obvious one, but they only offer fixed spreads so variable spreads aren't available for those that want to go down that route. They've chosen this offering so view it as a positive or negative, that's up to you.
ForexCT has more than a decade of experience in the market so, if the pros outweighed the cons for you then they may be the broker for you; they've got a well-developed educational program that outshines their competitors, as well as many other solutions that may help you solve your Forex problems.
Forget about your Forex woes; this local trading broker fully understands what you need.