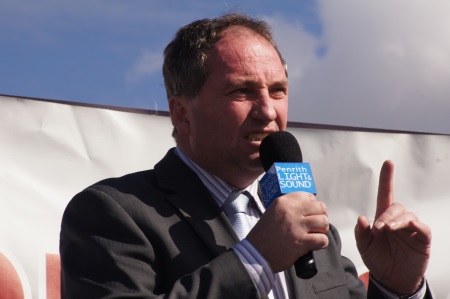 Three new grants under the Australia-China Agriculture Cooperation Agreement

Enhancing trade opportunities for seafood and dried fruits, along with knowledge sharing on sustainable agriculture


The Coalition Government is delivering $63,000 to producers across the dried fruit, fisheries and R&D sectors to strengthen and expand market opportunities through undertaking projects and trade missions with China.
Deputy Prime Minister and Minister for Agriculture and Water Resources, Barnaby Joyce, said the Coalition Government has made $345,000 available, under the latest rounds of the Australia-China Agriculture Cooperation Agreement (ACACA), to deliver more opportunities and better returns to Australian farmers and fishers.
"Dried Fruits Australia is receiving more than $11,500 for a trade mission to attend the China Fruit and Vegetable Trade Fair in Beijing as part of its work to expand market opportunities for premium Australian dried grape products," Minister Joyce said.
"Australian dried fruit exports to China were valued at $1.2 million in 2016. Under ChAFTA, tariffs on dried fruit exports of between 10 to 25 per cent will reduce to zero for most products by 1 January 2019."
The Coalition is also providing the Professional Fishermen's Association more than $11,500 for a trade mission as part of plans for development of a business-to-business seafood eCommerce pathway to China to enhance export opportunities for a range of Australian wild caught seafood products.
"There are huge opportunities under the ChAFTA to grow our seafood exports, which were valued at $86 million in 2016," Minister Joyce said. "Under ChAFTA tariffs on seafood exports of between 0 to 23 per cent will be eliminated for all products by 1 January 2019," Minister Joyce said.
Also as a result of the competitive ACACA grant round, the government will provide around $40,000 to support the Southern Regional Natural Resources Management Association to deliver an Australia-China Sustainable Agricultural Technology Forum in Tasmania in 2018.
"The Forum will include Australian participants and Chinese delegates, with presentations on Chinese and Australian agriculture, developments in agricultural RD&E in both countries, discussions on sustainable agricultural issues, sustainable agricultural technology demonstrations and farm visits to see best practice on the ground," Minister Joyce said.
"We recognise the tremendous benefits of exporting Australian produce to China, particularly in the agriculture space where our two-way trade was worth $13.2 billion in 2015-16.
"The projects funded under ACACA help to further our existing strong relationship, as well as help Australian agricultural producers realise the opportunities under the ChAFTA.
For more information on ACACA visit agriculture.gov.au/market-access-trade/acaca.
Fast facts
The objectives of the Australia-China Agricultural Cooperation Agreement (ACACA) are to enhance bilateral cooperation, develop trading relationships and exchange scientific information between Australia and China in agriculture, fisheries and forestry related industries. The Agreement was signed in 1984 and since this time ACACA has funded more than 200 delegation visits (or 'missions') between Australia and China.
ChAFTA eliminates tariffs on key commodities, mostly within four to eight years, where there is growing demand—like beef, sheep meat, hides and skins, dairy, horticulture, wine and seafood.
In 2014–15, an estimated 16,307 tonnes of dried grapes, including sultanas, currants and raisins, were produced in Australia with farmgate value of $14.1 million, with these mostly grown in the Sunraysia region.
An estimated 3,135 tonnes of dried tree fruit—plums, apricots, apples and pears—were also produced in 2014–15 with a farmgate value of $5.2 million, with Riverland in South Australia, Sunraysia and Victoria's Goulburn Valley the major growing regions.