Written by

Anna Wallin-Dubos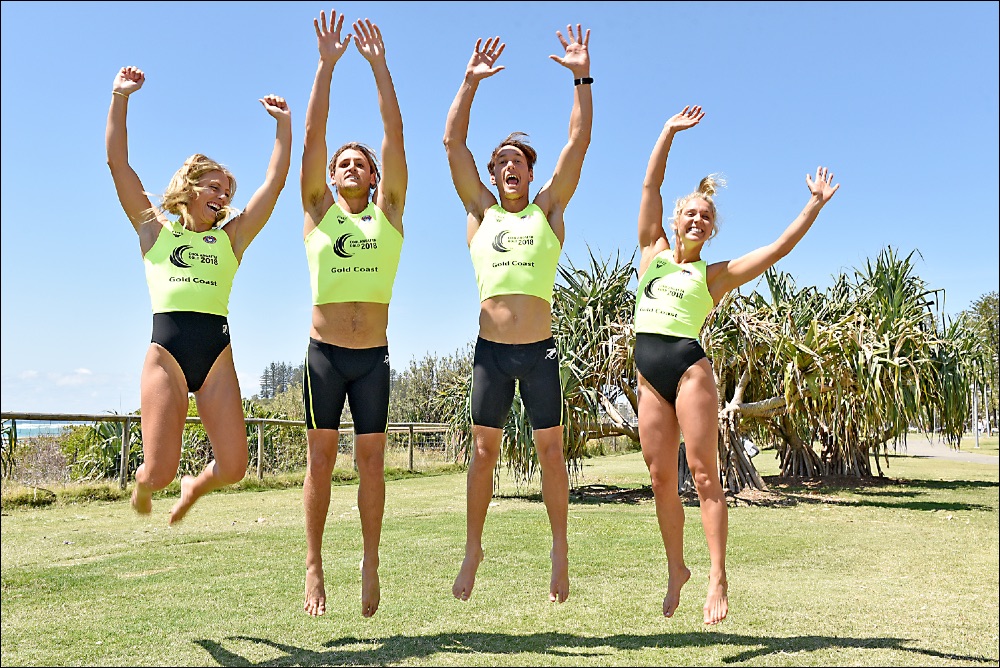 Day in hunt for this sixth Coolangatta Gold title while it's up for grabs for the women
Defending champion Ali Day has set his sights on maintaining his domination of the Coolangatta Gold aiming to add a sixth title to his collection when the cream of surf sports talent line up for the ultimate endurance test on 6 – 7 October.
Winning the 41.8km event for the sixth time means the 28-year-old Day would become the most successful athlete in the history of the event, which stretches back to Guy Leech's win in the inaugural race in 1984.
24 men will start in the elite category with close to half of the field making their Coolangatta Gold debut.
Talking about the 2018 Line up defending champion Ali Day expressed his delight at the broad field.
"It is so good for the sport to have such diverse line with so many competitors hitting the start line for the Coolangatta Gold," said Day.
"It definitely throws up the opportunity of surprise. For quite a while I have entered the race knowing my competitor's strengths and weakness just due to experience but this year's there could be plenty of surprises.
"I can't wait for Sunday morning, it's like the start of a brand news era".
For the first time in history in the women's field it will be an open race with no former winners looking to secure another tile.
However, the bridesmaid that has spent her time in waiting North Burleigh's Allie Britton is ready for the challenge of claiming her first Coolangatta Gold title.
Having come home second for two years in a row, twice won the Coolangatta Gold short course and seems to improve every year, all indicators point to this being Britton's year.
Talking about her preparation Britton said that her progress and training leading into this year's race felt much stronger than previous years.
"Several months ago, I suffered from a torn Plantar Fascia, but I am pleased to report that I have had a full recovery which is fantastic.
"I am feeling optimistic about Sunday, but the women's field is strong so it's not going to be a walk in the park," Britton said.
In 2017, Allie Britton and Danielle McKenzie were pipped to the title by the three-time winner Courtney Hancock.  This year's line-up includes Georgia Miller, and current Australian Iron Woman Champions Lana Rogers and Maddie Dunn.
Britton, who originally comes from the Carlton Park club in Tasmania, was a fast finisher in last year's race, with her strong run leg cutting Hancock's advantage down to just 26 seconds.
A total of 803 competitors have entered across the event weekend which features three competition courses.
The long-course event on Sunday, October 7, is a  gruelling 41.8km course covering the Gold Coast strip from Coolangatta to Broadbeach and back again, and includes a 23km  ski paddle, 2.1 km run, 3.5 km ski paddle, 6.1km paddle board and finishing with a 7.1km run.
Saturday's short course, following a start at Coolangatta will see ompetitors  follow a loop course for the 10.5km ski paddle, the 2km swim, 3km board paddle and 5.5km run with Coolangatta Beach as the transition area – allowing spectators and supporters the chance to easily follow the progress of the race.
A record number of juniors are also set to line up on Sunday's Youths Challenge. The course consists of a 300m soft sand run, a 400m swim, 400m run, 500m board and then a 50m run to conclude under the elite finish arch.
The 18th running of the Coolangatta Gold will attract endurance surf athletes from all over the world to compete in one of the most challenging surf sport races and test themselves alongside some of Australia's greatest surf sports figures.
The Coolangatta Gold event now attracts over 800 competitors across the Short Course,  Youth Challenge, Masters, Teams and those in the Long Course hoping to take home the coveted Gold title.
Event times
Coolangatta Gold Short Course – Saturday 6 October- 07:30am AEST
Coolangatta Gold Long Course- Sunday 7 October 07:30am AEST
Coolangatta Gold Youth Course – Sunday 7 October 09:30am AEST
Elite Women
| | | |
| --- | --- | --- |
| Name (First Name) | Name (Surname) | Club Name |
| Allie | Britton | Kurrawa SLSC |
| Maddy | Dunn | Northcliffe SLSC |
| Sophie | Hawkins | Surfers Paradise SLSC |
| Danielle | McKenzie | Northcliffe SLSC |
| Georgia | Miller | Northcliffe SLSC |
| Jennifer | Mullins | Northcliffe SLSC |
| Carla | Papac | Cronulla SLSC |
| Greta | Petersen | Tallebudgera SLSC |
| Lana | Rogers | Noosa Heads SLSC |
| Phoebe | Savage | Newport SLSC |
| Tylah | Shanahan | Alexandra Headlands SLSC |
| Jessie | Willsher | Bonny Hills SLSC |
| Georgia | Zuill | West Beach SLSC |
Elite Men
| | | |
| --- | --- | --- |
| Joshua | Allison | Glenelg SLSC |
| Mitchell | Allum | Wanda SLSC |
| Max | Anderson Loake | City of Perth SLSC |
| Max | Beattie | Surfers Paradise SLSC |
| Matthew | Bell | Newport SLSC |
| Luke | Chapman | Surfers Paradise SLSC |
| Ali | Day | Surfers Paradise SLSC |
| Mitchell | Dawes | Southport SLSC |
| Jay | Furniss | Manly SLSC |
| Neil | Glover | Mooloolaba SLSC |
| Nathan | Gray | Surfers Paradise SLSC |
| Matt | Hardiman | Warnambool SLSC |
| TJ | Hendy | Surfers Paradise SLSC |
| Taddy | McDonnell | Surfers Paradise SLSC |
| Chris | Mensforth | Terrigal SLSC |
| Josh | Meyer | North Burleigh SLSC |
| Daniel | Mole | Kurrawa SLSC |
| Jackson | Reed | Grange SLSC |
| Adam | Simpson | Surfers Paradise SLSC |
| Lachlan | Starr | Grange SLSC |
| Joshua | Stevens | North Bondi SLSC |
| Mitchell | Trim | Newport SLSC |
| Samuel | Urdanoff | Grange SLSC |
| Matthew | Zuill | West Beach SLSC |