Written by

Fron Jackson-Webb, Deputy Editor/Senior Health + Medicine Editor
This week, the Royal Commission into Aged Care Quality and Safety hearings focused on aged care in the home.
Most Australians want to stay in their homes for as long as possible as they advance in age. And the nation's aged care system provides subsidies to support this choice. But the commission heard evidence that ageing Australians face an average wait of 18-24 months for a home care package.
Those who have secured a package report problems with poorly trained staff, high management fees and unnecessary bureaucracy, such as having to call a 1800 number to change the time someone comes to help them shower.
So how does Australia's aged care system provide services in the home and why is it under so much pressure?
Read more: As home care packages become big business, older people are not getting the personalised support they need
Australia's aged care services are delivered through a mix of community and residential services. The three main types of care are:
home support: provides basic support, such as help with food preparation and transport, for older Australians in their own homes
home care: provides older people with more complex needs with four levels of care options, from basic care (level 1) which is assistance with tasks such as bathing and transport, to more complex needs (up to level 4) such as nursing care
residential care: provides care and accommodation for people who can no longer live independently in their own homes.
Read more: Explainer: what is a home care package and who is eligible?
In the 2017-18 financial year, more than 1.2 million Australians used some form of aged care service – with the majority receiving home-based support or care.
As at September 2018, there were 90,646 people receiving one of the government's subsidised home care packages.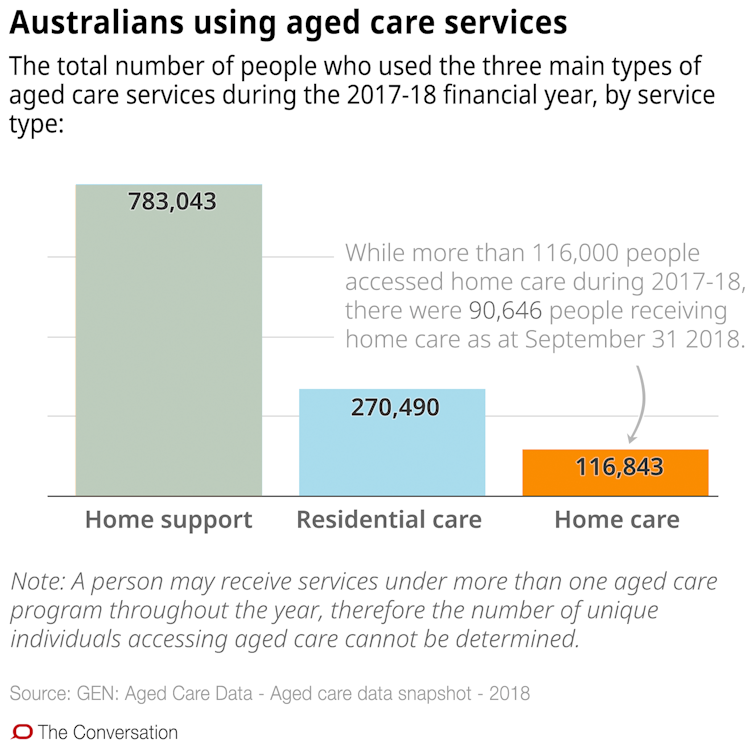 Authors: Fron Jackson-Webb, Deputy Editor/Senior Health + Medicine Editor
Read more http://theconversation.com/confused-about-aged-care-in-the-home-these-10-charts-explain-how-it-works-113923