Written by

Alexandra Wake, Program Manager, Journalism, RMIT University
Despite some reprieve in the 2019 federal budget, the ABC is still in dire financial straits. More job losses and a reduction in services remain on the agenda.
The Coalition government has provided another three years of tied funding of A$43.7 million specifically for the national broadcaster's "enhanced news-gathering" program. This program supports local news (particularly regional and outer-suburban news gathering), national reporting teams and state-based digital news.
But this funding doesn't address the broadcaster's need for more stability in its operational funding.
In July, the ABC will start to feel the full impact of a three-year, A$83.8 million indexation freeze on its funding, which was contained in the 2018 budget. So devastating is the size of that cut – and the ones prior to that – that ABC managers are almost completely focused on money, undermining their capacity to be strategic about the future.
There is no provision in the 2019 budget to restore the funding lost over the past six years and certainly no boost to cater for the dynamic and changing media environment.
Audiences who value what the ABC does now – and what it needs to be doing to support Australian democracy into the future – should take a closer look at the numbers, the way the money has been allocated and the impact of that.
Read more: ABC inquiry finds board knew of trouble between Milne and Guthrie, but did nothing
Accumulated losses to ABC are staggering
To illustrate the need for more secure operational funding for the ABC, one of the authors of this article, Michael Ward, conducted research on just how much the broadcaster stands to lose in the aggregate over the course of an eight-year period. Ward used a number of public financial sources to build the table below, including ABC portfolio budget statements and ABC answers to Senate Questions on Notice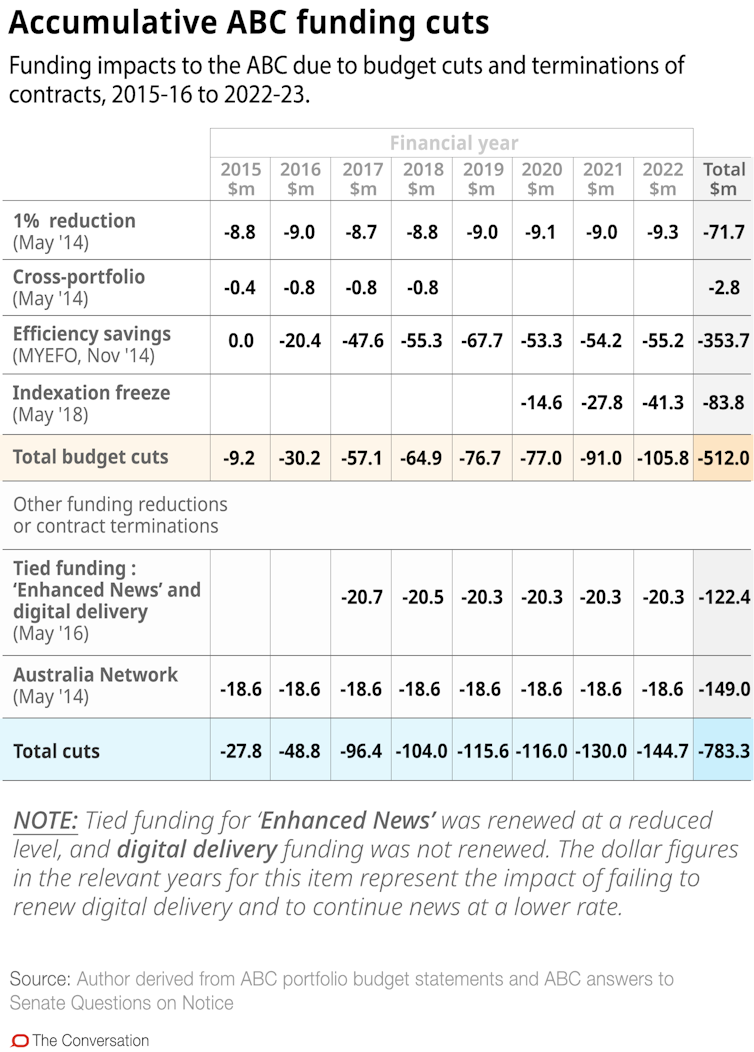 Authors: Alexandra Wake, Program Manager, Journalism, RMIT University
Read more http://theconversation.com/the-abc-didnt-receive-a-reprieve-in-the-budget-its-still-facing-staggering-cuts-114922