Written by

Dr Angela Pattison, Research scientist at Plant Breeding Institute, University of Sydney, University of Sydney
Sign up to the Beating Around the Bush newsletter here, and suggest a plant we should cover at batb@theconversation.edu.au.
The species Solanum centrale, also known as kutjera in several Aboriginal languages, or the desert raisin in English, stands out in Australia's wild bush tomato family in more ways than one.
A typical desert raisin plant in the wild looks fairly unimpressive from the surface, and certainly a lot less striking than the photos which pop up in an internet search.
In fact, if you don't know what you are looking for, you may miss them. They are fairly scrawny with greeny-grey hairy leaves and grow no taller than to the bottom of your shin.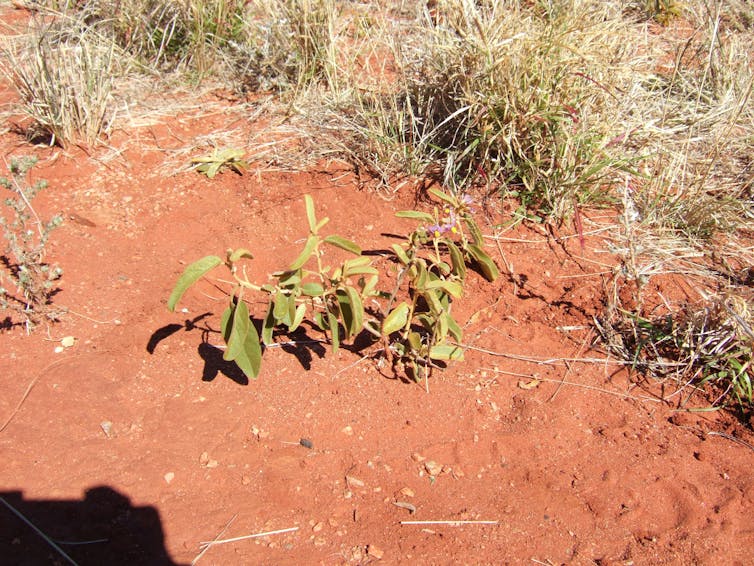 Author provided (No reuse)
You might only spot a shoot every few metres between other shrubs. Each shoot only has a handful of leaves, and it typically carries three to 10 sultana-sized fruit. Like sultanas, they're unappealingly brown and shrivelled. And you'll only see them if they have escaped hungry desert fauna.
But its humble appearance belies its significance to both people and the environment.
The fruit from this plant has been a staple in desert communities for thousands of years. It resembles a raisin but tastes like a piquant or smoky sun-dried tomato, and because it dries on the plant it has a long storage life relative to other fruit.
Read more: Can we be Australian without eating indigenous food?
Its cultural significance and ability to grow in sandy arid areas where almost no other domesticated plants survive makes this species a prime target for an enterprise based in remote Aboriginal communities, producing a unique fruit with plenty of health benefits to consumers.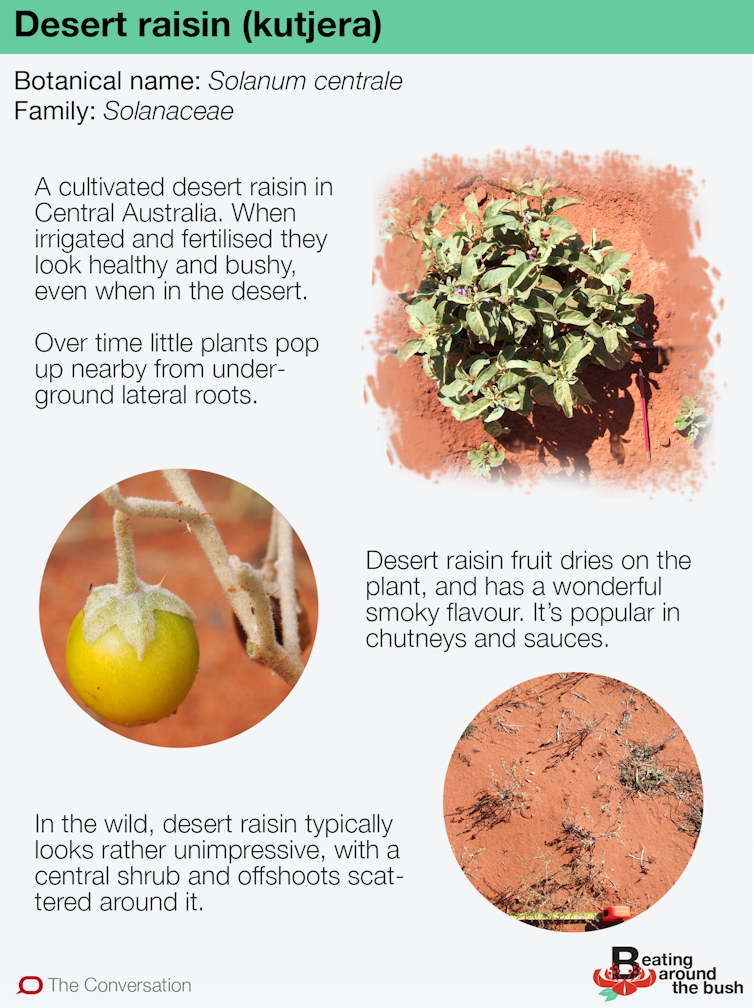 Authors: Dr Angela Pattison, Research scientist at Plant Breeding Institute, University of Sydney, University of Sydney
Read more http://theconversation.com/the-tasty-weed-like-desert-raisin-plant-is-as-big-as-a-carpark-115121