Written by

Aileen Marwung Walsh, ARC Laureate Research Scholarship, Rediscovering Deep Human History, Australian National University
Aboriginal and Torres Strait Islander readers are advised this article contains images and names of deceased people.
Review: Tell Me Why: The Story of My Life and My Music, by Archie Roach (Simon & Schuster)
Singer songwriter Archie Roach's new autobiography Tell Me Why, is a grim portrayal of his life of suffering at the hands of 20th century white Australia.
The Australian government eugenics programs against Aboriginal people led to the removal of many thousands of Aboriginal children from their families: the stolen generations. Archie was one of them.
Archie's many successes in the music industry did not begin until he stopped drinking. Archie sang Took the Children Away at the 1988 Survival Day event in Sydney. Though historian Peter Read had been working on the family tracing and reunion service Link-Up since 1981, it was Archie's song that brought home the tragedy of the stolen generations for all of us.
Archie sings from the heart about what he knows and what he and his family have experienced. Given how much pain is visible, we can only imagine the rest. Archie's first album was Charcoal Lane and in 1991 he won the ARIA award for Best New Artist and Best Indigenous Release.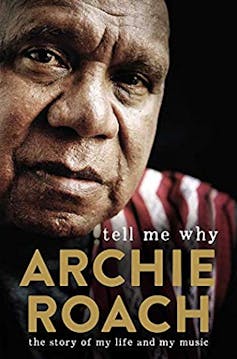 Authors: Aileen Marwung Walsh, ARC Laureate Research Scholarship, Rediscovering Deep Human History, Australian National University
Read more http://theconversation.com/tell-me-why-review-archie-roachs-pain-is-the-pain-of-all-of-us-127723