Written by

Scott Morrison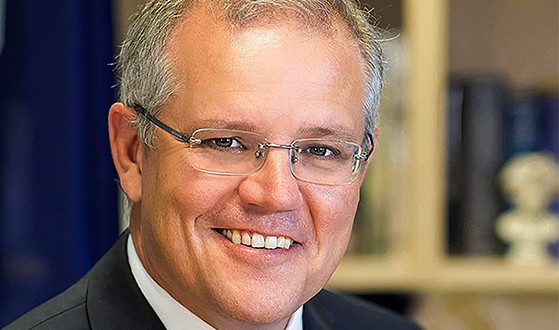 Well, g'day everyone. Welcome to the Lodge, and I particularly want to acknowledge the Ngunnawal people. I'd like to acknowledge elders past and present and pay my respect to them and in particular, those who are emerging. And can I acknowledge all other Aboriginal peoples from right around the country because many have gathered here today and it's so wonderful to have you here at this residence.
Can I also acknowledge those who have served us in our defence forces and indeed serve us today and simply say to you as we approach Australia Day tomorrow thank you for your service. And as I'm sure you would agree, you would also want me to acknowledge all of those who are out there today right around the country, volunteering and supporting communities as they fight fires and they support those who fight fires on this, another difficult day as we have had so many over this very terrible summer, a devastating summer. 
On behalf of Jenny and I, can I welcome you all. Can I particularly also welcome Danielle Roach, who's done such a wonderful job and in bringing you all together and the wonderful program you lead, Danielle, you do an absolutely amazing job and we are so pleased with the work you do around these important awards and Australia Day. To Ken Wyatt, the Minister for Indigenous Australians, our first ever Indigenous Indigenous Australians Minister, it's wonderful to have you here with us today, Ken, and thank you for the great work that you do to my Assistant Minister, Ben Morton, who's been very involved with all of this process. Great job, Ben. And can I thank also Carly Brand for the work that you've done around bringing everybody together for these 60th Australians of the Year awards, which is a very important milestone.
As I said, Australia has had a tough summer and it's not over yet. So our gathering this year is tinged with sadness as well as congratulations to those who have gathered here today to recognise your tremendous service to our country. And that service, I think, speaks of the resolve that in the short time that I've had this morning to speak to quite a number of you, that resolve which has driven your dedicated service. We have lost 32 lives, 3,000 homes and more. So much of our wildlife and so much of our landscape. But the resolve to stand by each other and to stick with each other in these times and in the months that will be ahead and always we will rebuild and we will come to terms with what was lost. It was around a year ago that I stood with some of those who are here today up in North Queensland in the devastating floods that wiped away a generation of work of those who run properties up there right across North Queensland and built up an enormous heritage. And they are rebuilding. They are rebuilding. And those who have been so affected by these terrible fires, they will rebuild also and Australians will stand with them as they do that. 
We've seen Australia's character again in these times and it is strong. We have seen what makes Australians great and we've also seen in that greatness the love that Australians have for each other, their country. It's in that spirit that I welcome you today with Jenny, because our Australian of the Year Awards are a celebration of our country's character. It's when we come together to tell the stories of who we are, particularly at this time that we discover again a fresh and encourage ourselves about the wonderful character and stories of Australia.
He's a few stories that some of you are very familiar with. In New South Wales, Professor and orthopaedic surgeon, Munjed Al Muderis, seven times now he's taken teams to his former homeland to help the victims of a conflict that he fled, paid out of his own pocket. And he has also educated other surgeons in complex, vital procedures.
There's Victoria's Archie Roach, known to most Australians, I'm sure, whose music has captivated us for decades with messages of love, reconciliation and healing. He's been a true advocate for our First Australians, our First Nations people.
There is Rachel Downie from Queensland. How good is Queensland, Rachel? Rachel channelled - this is so true of so many of the stories that I read about Australian service - channelled the grief she felt after losing one of her students to suicide in 2009 to create and self-fund Stymie. For those who don't know, Stymie is an anonymous harm reporting tool for students and in 2018, schools receive more than 40,000 notifications nationwide.
Over in the West, Annie Fogarty is also involved in education. In her case, she spent the last two decades together with her husband, Brett, leading the Fogarty Foundation and investing in education programs and teachers and by extension, the communities. What's more, Annie's EDvance program has helped students from lower socioeconomic communities get more support and better results. 
And across the border in South Australia, Dr James Muecke has been a pioneer for blindness prevention. After starting his medical career in Kenya, James has done some incredible work here in Australia and worldwide, particularly through the Sight For All organisation he co-founded. James's work not only treats blindness, but also helps tackle poverty and disadvantage.
Our nominee from Tassie, Dr Jess Melvin Thomas is an internationally renowned marine and Arctic and climate scientist. Now with the CSIRO, Jess is focused on sustainability and bridging the gap between complex research and decision making. And beyond that, though, she's a flag bearer for women in STEM and a co-founder of Homeward Bound, a project that saw an all-female group travelled to Antarctica as part of a leadership journey in 2016.
And here in the ACT, Katrina Fanning, who I was with just earlier in the week as the meeting of Indigenous Peak Groups came together, where she is a leader in working on Indigenous issues. But she also is a woman's rugby league pioneer, another subject close to my heart, opening one of our great codes to women, not just here in the ACT, but by extension all throughout the country. And she's done that for a quarter of a century. A proud Wiradjuri woman for indigenous women. 
And finally, there's Geoff Thompson, Geoffrey Thompson from our top end. Geoffrey is an ex-RAAF flying doctor and he's seen a lot in his time. Back in 1974, he oversaw RAAF's efforts to evacuate Darwin following the devastation of Cyclone Tracy, despite losing his own home. And he stands here with us today. In later years, he'd use his own plane to travel to remote Indigenous communities to offer general medical clinics and as a sports medicine specialist, Geoffrey has been the chief medical officer for the Paralympic athletes since 2008. 
Some good stories, some great yarns. Well done to all of you, to  Munjed, to Archie, to Annie, James, Jess and Katrina. Thank you on behalf of a grateful nation. And of course, we are joined by the  many other 23 nominees, our local heroes, our senior Australians, our young Australians. Like our country, you are a diverse group - researchers, educators, advocates, volunteers, fundraisers, sportspeople, environmentalists. You've looked out for others. 
Earlier in the week, my father passed. He loved Australia. And he would love you all because you've been building the country he loved. You've helped make Australia a better place. You've made us proud. You would have made him proud. And I know the family members and loved ones who are here with you today are as proud.
Right now is a difficult time for Australia and we draw strength from you, from your example, from your courage, from your compassion. We draw strength from those amazing volunteers who are out there today, selflessly serving. Their courage, their generosity. How good is Australia?
So on behalf of Jenny and I and all Australians, I say thank you and I say congratulations. I hope you enjoy this day together. Despite the background of what we meet together in today here in our nation's capital, it is a very special time for you and your families and all those who have worked with you and supported you.
So take that time to just reflect and understand how you've made our country better. Thank you.