Written by

Peter Goss, School Education Program Director, Grattan Institute
Australia must do better in school education. Following our worst ever results in international tests last year, politicians are keen to act, and quickly. But Australia has had any number of educational reforms over the past few decades, and our grades keep slipping.
We need a much more systematic approach. Many teachers and schools are already doing great things and delivering outstanding results; but this practice is too piecemeal, too isolated.
Among other things, becoming more systematic means making better use of our top teachers – those helping students flourish and who can guide other teachers to a similar path for success.
A Grattan Institute report released today, Top teachers: sharing expertise to improve teaching, shows the way.
What is happening already
We aren't the first to have the idea of making better use of top teachers.
Over the past few decades, Australia's education systems and schools have invested in a smorgasbord of programs focused on instructional leadership.
These include Primary Maths Specialists (a federal professional learning program for teachers), Instructional Leaders in NSW (where instructors work with teachers to build student and teacher capacity in literacy and numeracy) and Learning Specialists in Victoria (a career pathway for highly skilled teachers to help improve the practice of other teachers).
Read more: Aussie students are a year behind students 10 years ago in science, maths and reading
These initiatives have all been well-intentioned. But they haven't all been well-executed. For instance, the national Advanced Skills Teacher scheme in the 1990s was intended to increase top-end pay for only the highest-performing teachers. But in Victoria, virtually everyone who applied got the pay rise.
Other initiatives have been ad hoc, rather than becoming part of the daily work of teaching. None have had the scale and continuity Australia needs – or that high-performing systems already have, such as the Master Teacher roles that are part of Singapore's expert career track.
A big disconnect between theory and practice
We surveyed 700 teachers, instructional leaders and principals across Australia to find out the impact of instructional teachers on the ground.
Three-quarters of the teachers said they valued guidance from instructional leaders, but fewer than a third regularly changed what they did in response.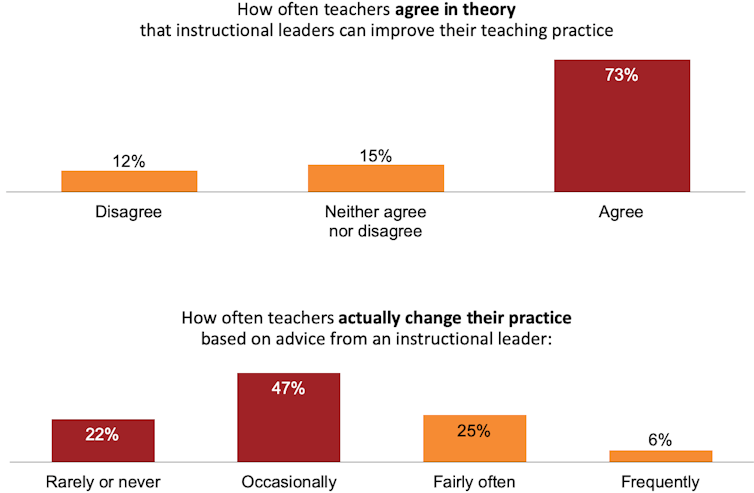 Authors: Peter Goss, School Education Program Director, Grattan Institute
Read more https://theconversation.com/making-better-use-of-australias-top-teachers-will-improve-student-outcomes-heres-how-to-do-it-131297