Written by

Michael Lund, Commissioning Editor, The Conversation
Editor's note: The following is current as at April 3, 2020. Things are changing quickly so best to keep an eye on the latest information from WA Health, as well as the federal government.
This article adds to the information we've published for New South Wales, Queensland and Victoria and on South Australia and the ACT. We will bring you more information on other states as we collect it.
According to Google Trends, some of the top coronavirus searches nationally in the past few days include "can I visit my parents coronavirus Australia?", "can I go fishing during coronavirus?" and "can I go for a drive during coronavirus Australia?"
"Can I visit my boyfriend during coronavirus Australia?" was also a common one.
Read more: Can I visit my boyfriend? My parents? Can I go fishing or bushwalking? Coronavirus rules in NSW, Queensland and Victoria explained
We asked legal experts in Western Australia – Natalie Skead and Michael Douglas from the University of Western Australia – to help shed some light on what the new rules might mean for residents of their state.
Can I visit my parents?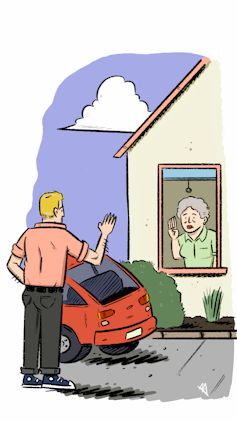 Authors: Michael Lund, Commissioning Editor, The Conversation
Read more https://theconversation.com/can-i-visit-my-boyfriend-or-my-parents-go-fishing-or-bushwalking-coronavirus-rules-in-western-australia-135544