Written by

Peter Hurley, Policy Fellow, Mitchell Institute, Victoria University
The university sector faces cumulative losses of up to A$19 billion over the next three years due to lost international student revenue.
Modelling from the Mitchell Institute shows the next big hit will come mid-year when $2 billion in annual tuition fees is wiped from the sector as international students are unable to travel to Australia to start their courses for second semester.
Such losses are not just a university problem. ABS data show for every $1 lost in university tuition fees, there is another $1.15 lost in the broader economy due to international student spending.
This means the Australian economy could lose more than $40 billion by 2023 because of reduced numbers of higher education international students.
We estimate each six-monthly intake missed due to closed borders will deliver an annual economic blow comparable to when Australia's auto manufacturing industry shut down (worth around $5 billion), or the loss of Australia's $4.1 billion annual vegetable crop.
Our modelling shows there will be no quick return to pre-coronavirus normality either, or "snapback" as Prime Minister Scott Morrison described it.
Missed intakes disrupt the pipeline of international students – who usually study for two to three years – so lost revenue continues to impact budgets for several years.
Forecasts tell a disturbing story
We looked at university finance data and enrolment trends. We modelled two scenarios: one with a relatively quick recovery of international student enrolments beginning in 2021, and the other with an extended travel ban that meant no new international students until 2022.
Both scenarios were disastrous for the higher education sector.
The first showed the university sector losing about $10 billion, though international student revenue would largely return to normal by 2023.
But the second scenario, incorporating extended travel bans, had a longer-lasting effect. With the government announcing the borders are likely to remain closed for "quite some time to come" the worst-case scenario seems more likely.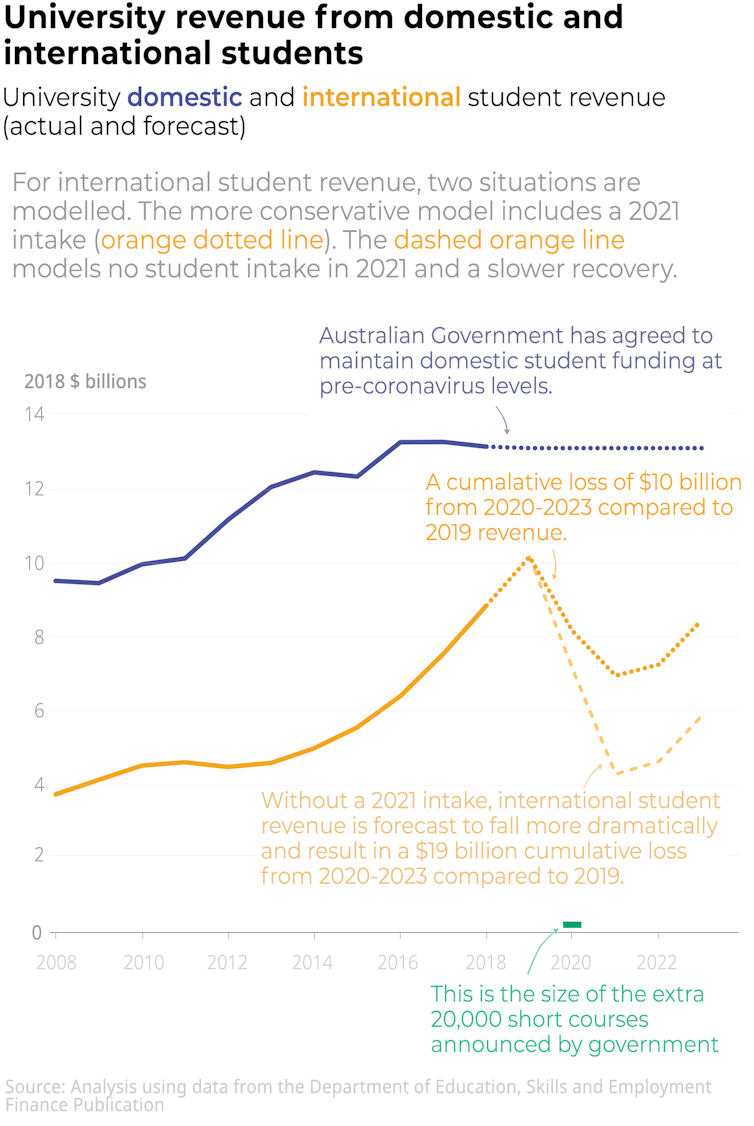 Authors: Peter Hurley, Policy Fellow, Mitchell Institute, Victoria University
Read more https://theconversation.com/australian-universities-could-lose-19-billion-in-the-next-3-years-our-economy-will-suffer-with-them-136251