Written by

David MacKenzie, Associate Professor, School of Psychology, Social Work & Social Policy, University of South Australia
What would happen if we were able to redesign the homelessness services system so homelessness could be decreased and ultimately ended? Our newly released research report sets out an agenda of practical innovations. If implemented systemically, these changes could radically transform Australia's response to youth homelessness within a decade.
Every year, about 42,000 people aged 15-24, seeking assistance on their own, receive help from homelessness services. Between 2001 and 2006, this figure was about 32,000 per year.
The current specialist homelessness services system consists of some 1,500 agencies throughout Australia that support and house people seeking help due to homelessness. The system has increased in capacity from 202,500 clients and funding of A$383 million in 2008, to 290,300 clients and A$989.8 million in 2017-18.
When the Rudd government issued its 2008 white paper, The Road Home, the bold objective was to halve homelessness by 2020. It's now all too clear the status quo of homelessness programs and services has failed to reduce homelessness. So what needs to change?
Rethinking the system
The Australian Housing and Urban Research Institute (AHURI) has just released the research report, Redesign of a homelessness service system for young people, by a team of researchers from Swinburne University and the University of South Australia. It provides "a systems rethink" of the response to youth homelessness. The report will be presented to the first AHURI research webinar to be held next Wednesday, April 29, in response to the COVID-19 crisis.
The researchers began by asking questions about what could be done to stem the flow of young people into homelessness and to extricate young people from homelessness. This led to a reframing of the system in terms of a community-level ecosystem of services, programs and supports, organised locally. It's a contrast to the status quo of centrally managed, targeted and siloed programs.
The diagram below shows what can be done to stem the flow into homelessness at the "front end" and what needs to be done at the "back end".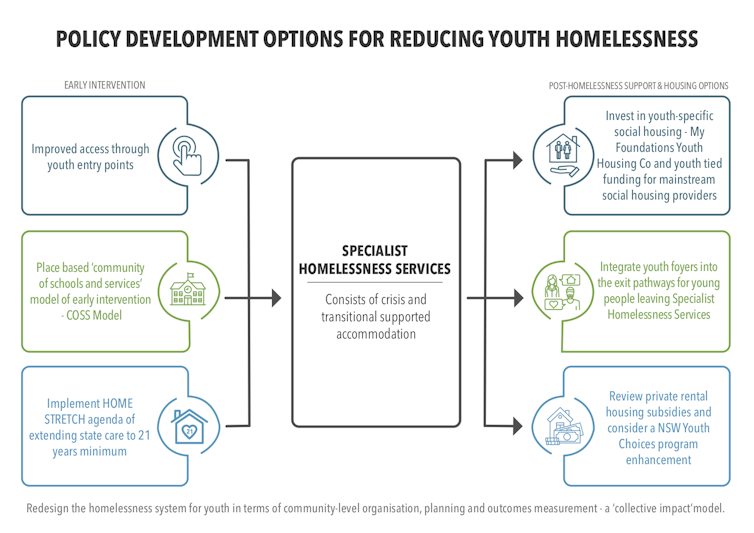 Authors: David MacKenzie, Associate Professor, School of Psychology, Social Work & Social Policy, University of South Australia
Read more https://theconversation.com/6-steps-towards-remaking-the-homelessness-system-so-it-works-for-young-people-136385