Written by

Tanya Notley, Senior Lecturer in Digital Media, Western Sydney University
Today we release the findings from our new research into how young Australians consume and think about news media.
Following a summer of bushfires and during the COVID-19 pandemic, young people have told us they consume news regularly. But they also say they can find it frightening and many don't ask questions about the true source of the information they are getting.
To our surprise, despite widespread concern about "fake news" and a growing body of evidence about the reach and impact of misinformation, many young people are also not getting formal education about news media at school.
Our research
In February and March 2020, we conducted an online survey of young people's media use and education. We used a nationally representative sample of more than 1,000 young Australians aged between eight and 16 years.
In our results, we refer to two age categories for analysis: children (8 to 12) and teens (13 to 16).
This repeats and extends a similar survey we did in 2017.
Where do young people get their news?
To provide a snapshot of news consumption, we asked young Australians where they got news stories from on the previous day.
We found a clear majority of young people do consume news directly from news sources or they hear about it from people they know and trust.
We found 88% had heard about news events from at least one source, up 8% on 2017. Family were by far the most common source.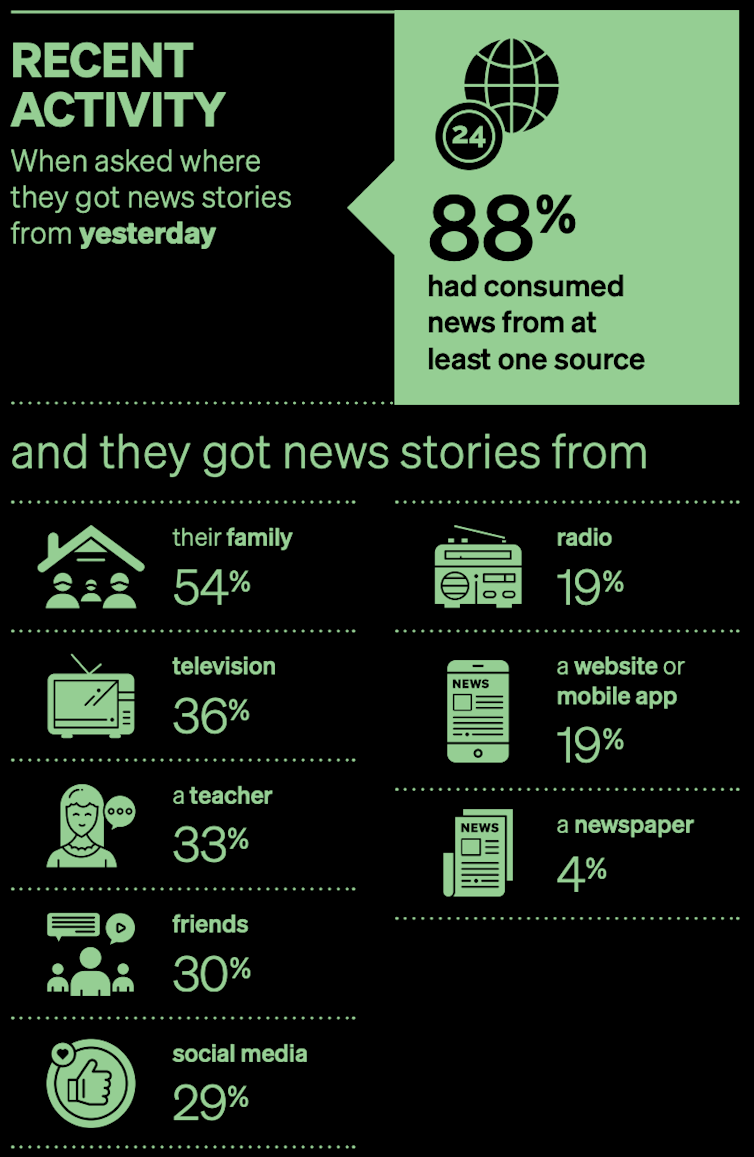 Authors: Tanya Notley, Senior Lecturer in Digital Media, Western Sydney University
Read more https://theconversation.com/we-live-in-an-age-of-fake-news-but-australian-children-are-not-learning-enough-about-media-literacy-141371